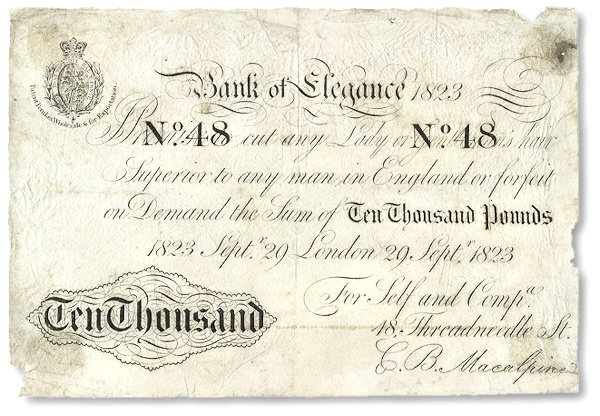 Banknote Murder
I Promise to cut any Lady or Gentleman's hair superior to any man in England
or Forfeit on Demand the sum of Ten Thousand Pounds
Bank of Elegance advertising skit note
Issued by C.B. MacAlpine, 18 Threadneedle Street, London
29 September 1823
186 x 126mm (7¼ x 5in)
From the annals* of The Ephemerist, the society's journal, comes a most shocking and bizarre story, featuring an imitation bank note similar to the one above but bearing a different denomination. An extraordinary case which was reported over several weeks in the Illustrated London News of 1845 is The Case of the Sham Banknote.
Martha Browning, a young woman apparently 23 years of age, was brought to Queen Square Police Court indicted for the wilful murder by strangulation of Elizabeth Mundell, an elderly female with whom she resided in Rochester Row, Westminster.
The chief circumstance which led to the apprehension of the prisoner appears to have been the possession by her of a bank note of the "Bank of Elegance" which had belonged to the deceased.
She was brought to trial at the Central Criminal Court and the jury, after deliberating for twenty-five minutes, returned a verdict of Guilty. Although she protested her innocence from the dock, she later made a full confession. She said that her only motive was a desire to possess herself of that which she believed to be a £5 Bank of England note, but which, as it turned out, was only a flash note, as it is termed, or one of the "Bank of Elegance".
It should be stated that the prisoner can read and write very well; but she said that she never had an opportunity of fully seeing the note until after the crime was committed.
She was hanged outside Newgate on 5 January 1846.
* The Ephemerist No 43, December 1983, page 36.