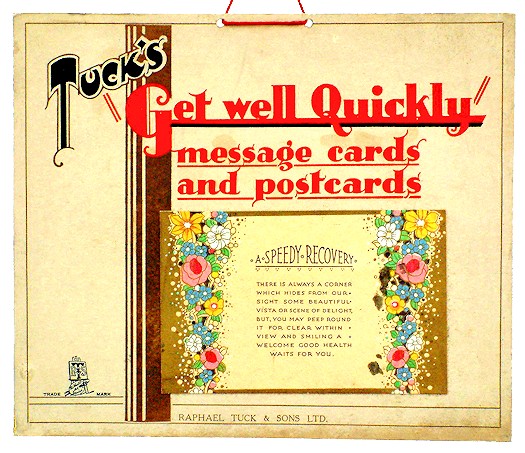 A Speedy Recovery
Hanging showcard with specimen postcard attached
Raphael Tuck & Sons Ltd
241 x 203mm (9½ x 8in); circa late 1920s
This distinctive aid to sales, designed to attract public attention, would have probably graced the attractive window display of a stationery shop impelling passers-by to stop and look.
What a difference a colourful get well greeting from friends and family could make - the perfect thing to cheer a person up when they're under the weather and in turn help aid recovery, although it has been pointed out that get well cards can be tactless at times of severe long-term illness when a "speedy recovery" isn't realistic. People mean well but the get well card's sentiment is best reserved for people with a temporary illness or recovering from a minor operation.
Get well cards seem to have originated in the early twentieth century by greeting card publishers, ostensibly to fill the gap between the major festivals of the year, they have continued to be extensively used and with great success.