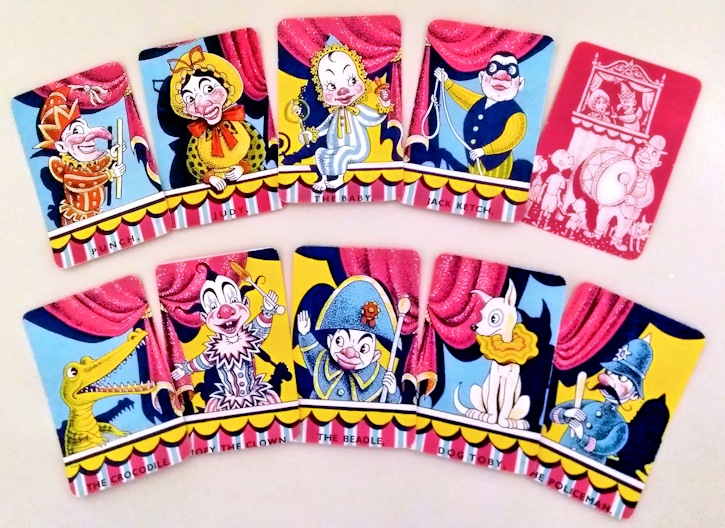 Punch & Judy Card Game
"A fine party game"
Each card: approx 51 x 76mm (2 x 3in)
A Pepys Game, manufactured in Great Britain
Published 1956
This card game is a simple Rummy game for two to eight players where players try to collect cards of the same character. The object of the game is to be the first player to dispose of all the cards in their hand by laying down a set or sets of three or four of the same character.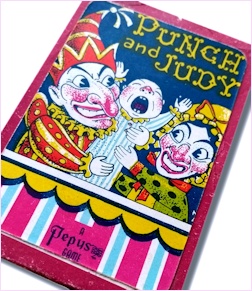 The pack consists of thirty four cards and on each card is a picture of a "Punch and Judy" character. There is only one Punch and one Judy card and four each of the following: Dog Toby, The Baby, The Beadle, The Policeman, The Crocodile, Jack Ketch, Joey the Clown and Jim Crow.
"Pepys Stationery" was a mark used by Castell Brothers, London, a fine art publisher founded in the late 1870s. As well as stationery their output included Christmas and New Year greetings cards, and dainty books of verses tastfully illustrated and printed by chromolithography, all designed in England and printed in Bavaria.
Riding on the wave of success from Disney's innovative animated musical film, Snow White and the Seven Dwarfs, released in Britain in 1938, Castell Brothers Ltd successfully launched their first card game carrying the Pepys name.
All the wistful charm of those delightful characters in the greatest fairy-tale film ever produced is reproduced in full colours from the Walt Disney originals in this wonderful new game trumpets a paragraph from their advertising campaign which ensured its continuing sales success.
Castell Brothers Ltd was to become one of the most prolific publishers of card games in the country.
For an in depth history of Pepys Card Games visit The World of Playing Cards website:
The Story of Pepys Card Games