Origin of drawing
A favourite branch of collecting in the golden days of the eighteenth century was the gathering together of such elegant and artistic trifles as benefit tickets, admission cards and address cards. All designed in graceful classical taste these dainty small reminders of the past were much admired and greatly sought after by collectors to enrich their collections.
The trade card of John Jeffryes, Ludgate Hill was published as an engraving on 20 June 1794. The design represents a young man seated on a couch, while a maiden is employed in tracing the outline of the profile shadow thrown upon the curtain by the glare of a flaming candelabrum.
These silhouettes profiles in black were known as shades in the days when these simple likenesses were in favour. This endearing scene repeated by numerous artists is generally described as the origin of drawing .
Extracted from The Art of Artistic advertisement in the eighteenth century by Joseph Grego
in The Connoisseur an illustrated magazine for collectors - 1902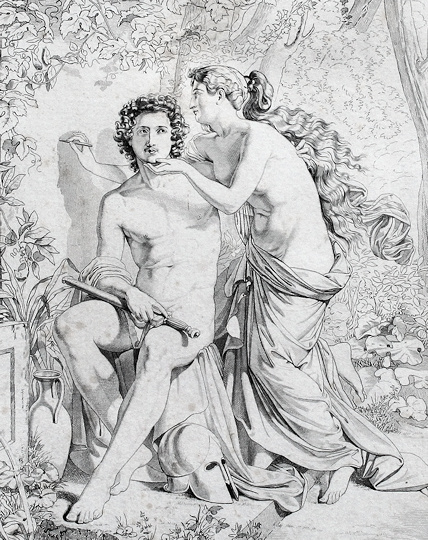 Another example on the same theme captures in an imaginative and beautiful way what might have happened before a young man went off to war in ancient times.
A state of prolonged fighting could keep men away from the home for years at a time and there was no absolute certainty they would manage to survive and return to their loved ones.