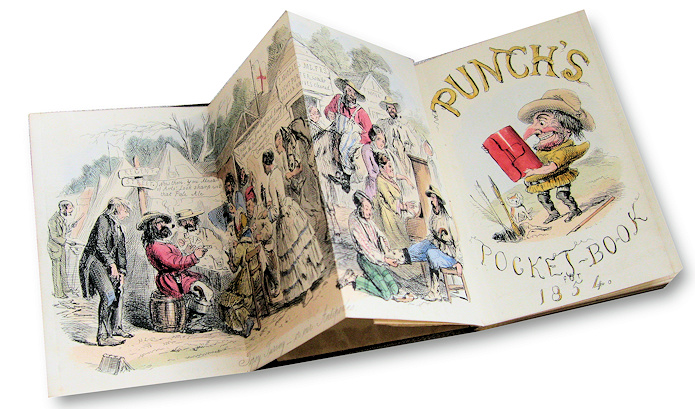 Punch's Pocket Book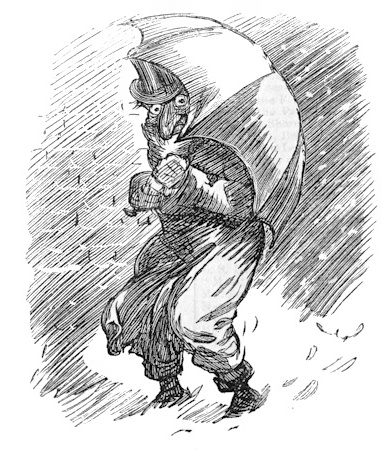 While still wrapped in winter's grasp struggling to warm Christmas noses and frost-bitten toes, the Victorians would be winding their way through the icy streets of London to, "the prettiest site on earth", number 85 Fleet Street, where Mr Punch provides the mirth, wit and wisdom to welcome in the New Year.
Casting their eye in the window, then into their purse, they walk in and buy the world-famed Punch's Pocket Book. The almanack is found to be one of the most indispensable books as it is necessary to have it at hand every day of the year.
The 1854 edition, price 2s. 6d., comprises of 192 pages with a folding hand-coloured frontispiece and additional title page, wood-engraved plates and illustrations, by John Leech and John Tenniel.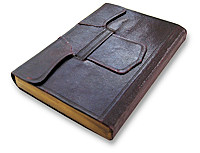 Bound in a soft morocco leather, with closing flap and small document pocket at front, around gilt edged pages. Publishers: Punch Office, 85, Fleet Street, London; Bradbury & Evans, printers, Whitefriars; 84 x 120mm (3¼ x 4¾in). The books were published between 1843 and 1881.
Part I leads with details of The State (Royal family, ambassadors, government offices) followed by The Legislature (Peers & MPs); Commerce (Lord Mayor, aldermen, bankers) and other section headings of Army Agents, Courts of Law, Theatres, Armorial Bearings, Postal Regulations, The Population, Calendar, Cash accounts, Diary and Memoranda.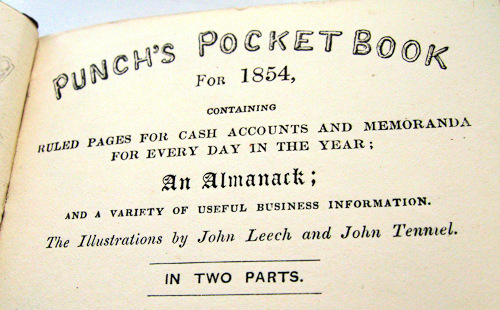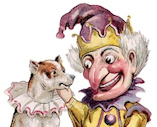 Part II of the pocket book has fifty two pages of humorous stories and poems accompanied by cartoons. A selection of titles include: Confessions of a Spirit-Rapping Medium, Fast Nursery Rhymes, The Cabman's Night-mare, How to Live on a Piano, The Season of Colds.
Finally, as Punch might have quipped the pocket-book would be most useful for anyone with a pocket!