The Ephemera Society News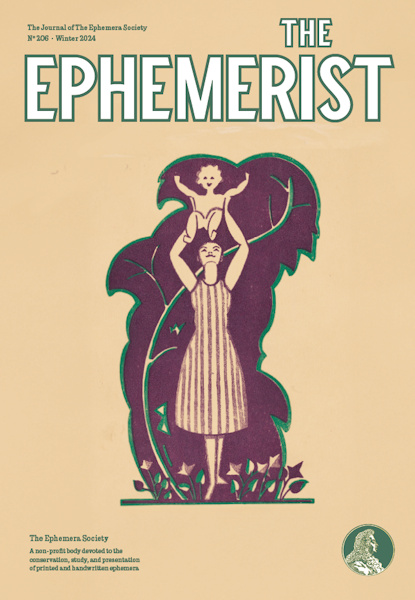 The Ephemerist
The Autumn copy of the society's journal "The Ephemerist" was despatched on 11 October and is on its way to our lucky members.

This edition is one of our most interesting in recent times - offering a fantastic snapshot into the breadth and quality of printed ephemera that lies in public and private collections. Quality design, layout and cool illustrations enhance and promote the reader experience.

Why not become a member today? A year's membership of The Ephemera Society entitles you to four issues. Join us!

The Ephemera Society is always pleased to welcome new members. Payment can now be made online via PayPal.

Increase in membership fees
In the past few years the society has faced increasing costs in the production and mailing of The Ephemerist. We have striven to absorb these costs and have maintained an extremely reasonable subscription fee. Whilst price increases are never a welcome message to impart to loyal and long-standing members, we hope the necessity for the increase will be understood. As a result UK membership fees will increase to £35 per year beginning with subscriptions for 2019, and others proportionately.
Eric Ravilious Scrapbooks
Peyton Skipwith and Brian Webb
Lund Humphries is publishing the first book to present the preparatory works and visual musings of the enduringly popular Eric Ravilious, revealing the inspirations and processes behind some of Ravilious's most famous works.
To the interested observer the collected volumes of artist-designer Eric Ravilious's preparatory works and materials provide a veritable mine of information about his work and working methods, particularly regarding the masterful development of his signature pure pattern.
Ravilious's scrapbooks represent a conscious accumulation of reference material, revealing his interest in subjects as diverse as tennis, cricket, fireworks and aeronautics, alongside a multitude of sketches, tracings and proofs of engravings.
Bringing together over 170 images taken from the artist's five scrapbooks, accompanied by instructive commentary by the authors, this new book provides a fascinating record of the febrile imagination of one of Britain's best-loved artists.
172 colour illustrations
ISBN 978-1-84822-259-5
300 x 240mm/ Hardback/ 208 pages
UK Publication 28 September 2018
£40