The Ephemera Society News
The Ephemera Society Journal
No 194 Autumn 2021 issue of "The Ephemerist", the society's high quality journal, was posted to members on Monday 11 October.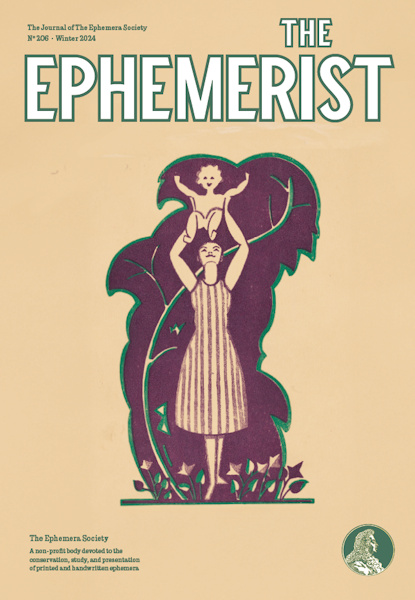 Autumn 2021 issue Nº 194 of The Ephemerist
Collecting games and the ephemera of games has proven to be popular amongst our Members; the theme has inspired so many interesting contributions that it has been difficult to select which ones to feature.
Represented in this issue are playing cards, dominoes, printed board games about subjects from magic worlds to types of pasta – and Japanese water flowers.
As often in the collection and study of ephemera, the insights about social history that the games reveal is often of greater interest than their theme. Our regular features Mrs Pepys and Notes & Queries complete the issue. The Editor
The cover shows Historical Pastime. A new game of the history of England from William 1st to Geoe. 4th. E. Harris and J. Wallis & Son, London, 1824, © Bodleian Libraries, University of Oxford.
The Editor is always delighted to receive contributions about any aspect of ephemera and collecting ephemera. Submission deadlines are:
Spring Nº 196 15 February 2022
Summer Nº 197 15 May 2022
August Nº 198 15 August 2022
Why not become a member today? A year's membership of The Ephemera Society entitles you to four issues. Join us! The Ephemera Society is always pleased to welcome new members. Payment can be made online via PayPal.
Ephemeral Print Culture in Early Modern England
By Tim Somers
Cheap' genres of print such as ballads, almanacs and playing cards were part of everyday life in seventeenth-century society - ubiquitous and disposable. Toward the end of the century, however, individuals began to preserve, arrange and display articles of cheap print within carefully curated collections.
What motivated this sudden urge to preserve the ephemeral? This book answers that question by analysing the social, political and intellectual factors behind the formation of cheap print collections, how these collections were used by their owners, and what this activity can tell us about 'print culture' in the early modern period.
The book's central collector is John Bagford (1650-1715), a shoemaker who became a dealer of prints and other 'curiosities' to important collectors of the time such as Samuel Pepys, Hans Sloane and Robert Harley. Bagford's own rich and largely unstudied collection is a fascinating study in its own right and his position at the centre of commercial and intellectual networks opens up a whole world of collecting.
This world encompasses later Stuart partisan political culture, when modern parties and the 'public sphere' first emerged; the 'New Science' and 'virtuoso culture' with its milieu of natural philosophers, antiquaries and artisans; the aural and visual landscape of marketplaces, streets and alehouses; and developing practices of record-keeping, life-writing and historical writing during the long eighteenth century.
324 Pages • 23.4 x 15.6 cm • 33 b/w Illustrations • Publisher: Boydell Press
Shell Art & Advertising
Exploring Shell's remarkable advertising archive, which includes an extensive poster collection, as well as film, cartoon graphics and guidebooks, this book is the first to present a comprehensive overview of the company's artistic heritage.
The key contributions made by some major artists and designers including Paul Nash, Graham Sutherland, Ben Nicholson and Edward McKnight Kauffer are highlighted and beautifully reproduced from original archive material, and broader questions are explored, such as Shell's position within contemporary debates regarding the aesthetics of 'Commercial Art'.
By delving into the ways in which Shell's publicity was conceived, commissioned and disseminated in the 20th century, the authors examine the historical and social contexts of Shell's advertising and assess the work's broader cultural significance in shaping an era defined by travel, prosperity and mass democracy.
Hardback • 208 Pages • Size: 270 × 249 mm • Includes 120 colour and 50 B&W illustrations
ISBN: 9781848223783 • Publication: 6 September 2021 • Publisher: Lund Humphries
Hawkers, Beggars and Quacks: Portraits from The Cries of London
By Sean Shesgreen
Marcellus Laroon's The Cryes of the City of London drawne after the Life presents, in seventy-four striking portraits, a panorama of London's marginal men and women: street vendors, hustlers and petty criminals together with the shouts (or cries) they used to hawk their wares, as they existed at the end of the seventeenth century.
Following an illustrated introduction which sets Laroon's engravings within the tradition of the Cries, each portrait is beautifully reproduced with a commentary that illuminates the individual street-seller and their trade. The commentaries provide a wealth of detail about their dress, the equipment they used to ply their trade, the meat and drink of those they served and their own diets. This book also mines historical archives for contemporary reports about the colourful and often desperate lives of these hawkers.
Drawing on the historic material found in the Burney Collection of English newspapers, this book provides a fascinating insight into the men and women who made their livelihood, legally and illegally, on the streets of England's capital.
Hardback · 240 pages, 245 x 190 mm · c.100 illustrations · ISBN: 9781851245512
Publication September 2021
Publisher: Bodleian Shop
John Hassall: The Life and Art of the Poster King
By Lucinda Gosling
During the early twentieth century, John Hassall was one of Britain's best-known and most high-profile artists. Working across a variety of disciplines, he was a prolific book illustrator, a humorous artist for postcards and magazines, an art school founder and teacher, a painter in oils, consummate clubman, and a designer of toys, figurines, pottery and nursery decor.
But it was through his commercial illustration for travel companies, political causes, theatre and well-known brands that he made his name in an age when advertising hoardings were known as the, 'poor man's art gallery'.
Hassall's natural affinity for poster art, and the popularity of his creations, was to earn him the title, 'The Poster King'. Employing bold line, flat colours and an engagingly cheery style, Hassall's designs had immediate impact with many creations, notably his famous, 'Skegness is SO bracing' poster, becoming embedded in popular culture.
Drawing on previously unpublished artwork and sketches along with letters, diaries and photographs, this lavishly illustrated book seeks to explore the full scope of John Hassall's body of work, and to celebrate the life of this extraordinary artist a century on from his heyday.
Publisher: Unicorn
Tom Eckersley: A Mid-Century Modern Master
By Paul Rennie
Tom Eckersley (1914-1997) was an English poster artist and design teacher, and part of the "outsider" generation that transformed graphic design in Britain in the mid-century era.
As a graphic designer and poster artist, he was at the forefront of the explosion of print culture in Britain during the 20th century.
He is best known for his posters, which used bold, bright colours and flat graphic shapes to convey their message in a simple and effective way.
His design work spans WWII and the decades following, and his impressive client list includes the BBC, Ministry of Information, British Rail, the Post Office, Guinness, Keep Britain Tidy, London Transport, Imperial War Museum, Royal Society for the Prevention of Accidents, Gillette, Ealing Films, Shell, and BP. The book is packed with Eckersley's instantly recognizable, bright and colourful posters.
ISBN: 9781849946049 · 256 pages, 220 colour illustrations • Publication July 2021
Publisher: Pavilion Books
The Inks of De La Rue & Co.
By Peter Young FRPSL
Identification of bank notes, stamps or postal stationery is primarily by colour, as are labels for grocery products, railway tickets, or other paper ephemera. Obviously, printing on them may spell out their denominations or reasons to exist, but it is colour that the eyes identify first.
But that is determined by the inks used which, in turn, are determined by their ingredients and recipes. Yet the subject of inks has been the least studied aspects in printing history despite some shades of colour being more eagerly sought by collectors than others.
This book should appeal to both philatelists, notaphilists , or collectors of ephemera, as well as printers and social historians wanting to know more about printed products in previous ages.
The Inks of De La Rue & Co. and their introduction of synthetic and aniline ingredients c.1850-1910
432-page hardback (ISBN 978-1-913015-09-1)
More details: The Royal Philatelic Society London
This Is What Democracy Looked Like: A Visual History of the Printed Ballot
This Is What Democracy Looked Like, the first illustrated history of printed ballot design, illuminates the noble but often flawed process at the heart of democracy.
An exploration and celebration of US ballots from the nineteenth and early twentieth centuries, this visual history reveals unregulated, outlandish, and, at times, absurd designs that reflect the explosive growth and changing face of the voting public.
The ballots offer insight into a pivotal time in American history---a period of tectonic shifts in the electoral system---fraught with electoral fraud, disenfranchisement, scams, and skullduggery, as parties printed their own tickets and voters risked their lives going to the polls.
Details: Hardcover, Size: 6.75 X 10.25 inch, Pages: 176, Colour: 200, ISBN: 9781616898878
Publisher: Princeton Architectural Press