The Ephemera Society News
The Ephemera Society Journal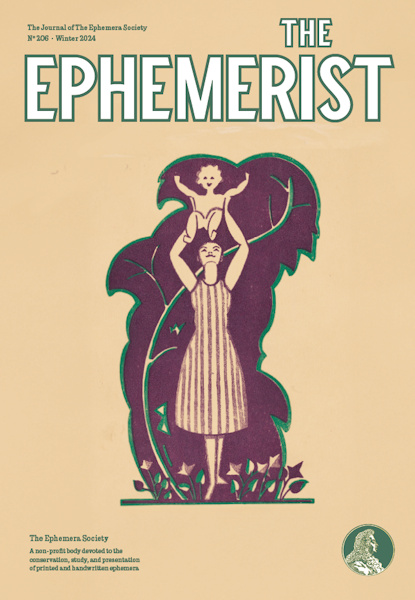 No 193 Summer 2021 issue of The Ephemerist, the society's high quality journal, is scheduled to be posted to members at the beginning of July 2021.
The cover reproduces John Hassall's advertisement for Colman's Mustard, 1899, courtesy of Look and Learn Archive.
Contributions to Issue Nº 193 of The Ephemerist include Sumner's collection of the humble paper bag, now spanning a century, Twyman's investigation into English and French official public notices of the late eighteenth and early nineteenth centuries, and Scott's collection of Bills of Lading, shipping cargo notices from the same period. A 'glamorous' side of travel is revealed through Weir-Hughes' study of airline menus, while Gosling's article serves as a nostalgic reminder of holidays at home, through the iconic posters of John Hassall.
Our regular features Mrs Pepys and Notes & Queries complete the issue. The Editor
Submission deadlines are:
Autumn Nº 194, 15 August 2021
Winter Nº 195, November 15 2021
Why not become a member today? A year's membership of The Ephemera Society entitles you to four issues. Join us! The Ephemera Society is always pleased to welcome new members. Payment can be made online via PayPal.
John Hassall: The Life and Art of the Poster King
By Lucinda Gosling
During the early twentieth century, John Hassall was one of Britain's best-known and most high-profile artists. Working across a variety of disciplines, he was a prolific book illustrator, a humorous artist for postcards and magazines, an art school founder and teacher, a painter in oils, consummate clubman, and a designer of toys, figurines, pottery and nursery decor.
But it was through his commercial illustration for travel companies, political causes, theatre and well-known brands that he made his name in an age when advertising hoardings were known as the, 'poor man's art gallery'.
Hassall's natural affinity for poster art, and the popularity of his creations, was to earn him the title, 'The Poster King'. Employing bold line, flat colours and an engagingly cheery style, Hassall's designs had immediate impact with many creations, notably his famous, 'Skegness is SO bracing' poster, becoming embedded in popular culture.
Drawing on previously unpublished artwork and sketches along with letters, diaries and photographs, this lavishly illustrated book seeks to explore the full scope of John Hassall's body of work, and to celebrate the life of this extraordinary artist a century on from his heyday. .
Publisher: Unicorn
Secrets of the Great Ocean Liners
By John G Sayers
Before the advent of commercial transatlantic flights in the early 1950s, the only way to travel between continents was by sea. During the golden age of ocean liners, between the late nineteenth century and the Second World War, shipping companies ensured their vessels were a home away from home, providing entertainment, dining, sleeping quarters and smoking lounges to accommodate their passengers for voyages that could last as long as three months.
Secrets of the Great Ocean Liners leads the reader through each of the stages – and secrets – of ocean liner travel, from booking a ticket and choosing a cabin to shore excursions, dining, on-board games, social events, romances, and disembarking on arrival. Additional chapters disclose wartime voyages and disasters at sea.
The shipping companies produced glamorous brochures, sailing schedules, voyage logs, passenger lists, postcards and menus, all of which help us to understand the challenges, etiquette and luxury of ocean liner travel. Diaries, letters and journals written on board also reveal a host of behind-the-scenes secrets and fascinating insights into the experience of travelling by sea. This book by Ephemera Society member John G Sayers dives into a vast, unique collection to reveal the scandals, glamour, challenges and tragedies of ocean liner travel.
ISBN: 9781851245307 · 256 pages, 228 x 176 mm · c.150 colour illustrations
Publication November 2020 · More details: Bodleian Bookshop
The Inks of De La Rue & Co.
By Peter Young FRPSL
Identification of bank notes, stamps or postal stationery is primarily by colour, as are labels for grocery products, railway tickets, or other paper ephemera. Obviously, printing on them may spell out their denominations or reasons to exist, but it is colour that the eyes identify first.
But that is determined by the inks used which, in turn, are determined by their ingredients and recipes. Yet the subject of inks has been the least studied aspects in printing history despite some shades of colour being more eagerly sought by collectors than others.
This book should appeal to both philatelists, notaphilists , or collectors of ephemera, as well as printers and social historians wanting to know more about printed products in previous ages.
The Inks of De La Rue & Co. and their introduction of synthetic and aniline ingredients c.1850-1910
432-page hardback (ISBN 978-1-913015-09-1)
More details: The Royal Philatelic Society London
Magic Papers: Conjuring Ephemera From 1890 to 1960
Magic is largely a solitary endeavour, but the channels of its tips and tricks had a little-known heyday around a hundred years ago. That golden era circulated secrets in printed matter packed with flamboyant custom lettering, sensational language and mystifying illustrations — largely made by and for its own community, compiled and consumed by dedicated practitioners and hobbyists.
Often unregulated and infrequently archived beyond private collections, these magic papers collided with cults of personality, unshakable passion, and a thirst for notoriety.
The book features a huge assembly of printed material from the collection of Philip David Treece, a magic expert dedicated to preserving a golden era of magic publishing. This collection celebrates journals, periodicals, books and other ephemera created for the magic community between 1890 and 1960. Each book includes a 16 page gloss insert featuring a collection of magical apparatus.
144 pages + 16 page insert · Soft cover with flaps · 245x340mm
Limited to 800 copies · ISBN: 9781916412149
Publisher: CentreCentre Books