The Ephemera Society News
The Ephemerist
Newly designed and beautiful, full of intrigue and interest, vibrant and gorgeous the Winter issue of The Ephemerist, the society's journal, was posted to members on 4 January 2018.
A year's membership of The Ephemera Society entitles you to four issues in 2018.
Join us! The Ephemera Society is always pleased to welcome new members. Payment can now be made online via PayPal.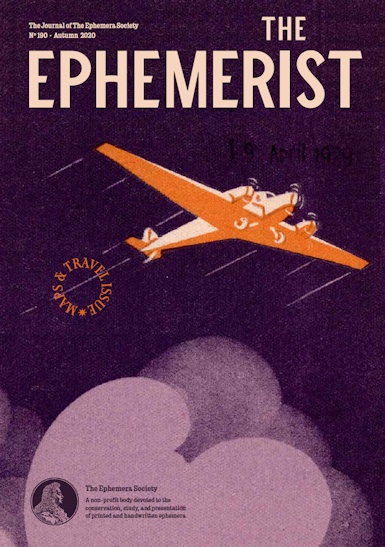 In this 32pp issue:
Lost inside the collector's cabinet | Rick Poynor
John and Griselda Lewis Printing Collection | David Plant
The 1924 British Empire Exhibition | John G. Sayers
Old Puzzle Cards | Anon
Plus regular favourites | Mrs Pepys' Diary and Notes & Queries
1st International Ephemera Studies Symposium
25-27 April 2018, Ankara, Turkey
For the first time in Turkey, this conference is going to assess the relevant and significant researches and studies that have been undertaken both in Turkey and abroad up to the present time. It will also bring together the academics, collectors, curators and experts from different disciplines who have been actively participating in ephemera studies.
The purpose of the symposium will be to provide a multidisciplinary perspective about ephemera studies by presenting a methodological, analytical and classifying approach as well discussing both national and international efforts which have been made in different disciplines.
The symposium will be organized at VEKAM (Ankara) under the auspices of Koç University Vehbi Koç Ankara Studies Research Center (VEKAM), and with the contributions of Assist. Prof. Dr. Bahar Gürsel and Middle East Technical University's (METU) Department of History.
The international scientific committee of the symposium has decided to concentrate on six different themes during the event: Information and Document Management, Urban Studies, Collectors and Museology, Cultural Studies, Art and History Writing.
Cambridge University Library: Broadside Day 2018
24 February 2018
The Broadside Day is the annual one-day conference for people interested in Street Literature in all its fascinating aspects - broadsides, chapbooks, songsters, woodcuts, engravings, last dying speeches, catchpennies, wonder-tales, almanacs, fortune-tellers, and all kinds of cheap printed material sold to ordinary people in city streets, at country fairs, and from pedlar's packs up and down the country in past centuries. The Day consists of short papers, presentations, displays, discussions, and is suitable for beginners and experts alike, who will all enjoy its lively and informal atmosphere.
Street literature, in the form of broadside ballads, was first produced in the early 16th century, and was at first concentrated in London, but later spread to every part of the British Isles and lasted into the 20th century. But its glorious heyday was in Victorian times when tens of thousands of items were produced every year by jobbing printers everywhere.
The material was often very badly printed, on the cheapest quality of paper, and might be genuine news or a complete fiction, but for most of this time it was one of the only forms of reading matter readily available to the poor, and is therefore tremendously interesting to a wide range of modern-day researchers and enthusiasts.
This year's Broadside Day will be hosted by the Rare Books Department of Cambridge University, which is home to the biggest single collection of 18th and 19th century broadsides in Britain, comprising over 30,000 ballads compiled by Sir Frederic Madden, Keeper of the Department of Manuscripts at the British Museum.
Chetham's Library, Manchester: Collecting Political Ephemera
Thursday 22 February 2018
As part of the ACE funded digitisation project "The Ballad of Chetham's Library" a day will be dedicated to reflect on the subject of Collecting Political Ephemera. Twenty minute maximum proposals are welcome from students and researchers in the fields of libraries, archives and museum studies, modern history and modern politics, amongst others, on any topic related to the main theme of this one-day workshop.
Possible topics include:
Biased collections or collecting with an agenda: How much of a true representation of events can this material offer when it has been gathered by an individual according to their own political allegiances? OurThe keynote speaker for this event, Dr Robert Poole from UCLAN university, will talk about William Robert Hay and his intentions when collecting Peterloo related material, given that he was one of the ten magistrates on duty at St Peter's Field on 16th August, 1819.

The Practicalities of Collecting Political Ephemera: From storing the sheer volume of political propaganda produced these days, to issues of display, conservation, online access and promotion, how are collecting institutions dealing with these challenges in their everyday practice?

Political ephemera nowadays: Has the printed word got the same effect as in the past? Are digital platforms and social media strategies taken over? Why are traditional methods still being used? What challenges does this born-digital material present for collecting institutions? How relevant digitisation projects like "The Ballad of Chetham's Library" are to promote this kind of material?
Chetham's Library
Long Millgate
Manchester M3 1SB
UK
Spring Stampex 2018 will include ephemera exhibits
14 - 17 February 2018
The Association of British Philatelic Societies (ABPS) Exhibitions and International Committee announces that it is inviting exhibits of ephemera to be entered at Spring Stampex.
'Ephemera' covers a vast range of printed and written items designed for a specific purpose - from beer mats to greetings cards and from pamphlets to train tickets. It provides fascinating insights into cultural trends over the centuries and generates much interest among collectors.
Building on their experience with Cinderella and postcard exhibits collectors of ephemera now have an opportunity to display their material. Exhibitors of ephemera can enter competitively so that their exhibits will be judged according to the competition rules, or they can enter non-competitively.
ABPS is taking this initiative in association with the Ephemera Society and are looking forward to welcoming exhibitors of ephemera to Stampex in February.
Spring Stampex
Business Design Centre
52 Upper Street
London N1 0QH
UK
For further information and an application form: The ABPS website
Printing for the workplace: industrial and business publishing
Thursday 12 July 2018 · 9AM - 5PM · Gladstone's Library, Hawarden, Flintshire, Wales
Every company that has ever issued a catalogue, advertising leaflet or annual report, can be regarded either as a publisher or a user of publishing services, and their products can be termed either 'industrial' or 'business publishing'.
For the purpose of this conference 'industrial and business publishing' is defined as the production and issuing of commercial literature that not only utilizes the skills of traditional publishing (authorship, editorial direction, the commissioning of artists, designers and photographers) but also necessitates the supervision of printing and distribution. These customary activities are, however, executed by—or for—an industry for which publishing is not the primary business.
Industries not engaged in printing as their primary concern have also utilised printing for the manufacturing of its products which may use substrates other than paper: for example transfer printing in the production of ceramics or enamel or the printing on tin.
The association between industry and publishing is not new. Papers are invited that consider its development from its earliest days through to the end of the twentieth century, by which time the issuing of printed matter had become an important ancillary manufacturing activity and industrial publishing finally recognised as a professional adjunct to business.
Papers are also welcome that not only consider the design, production and distribution of industrial and business publishing, but also the companies that issued it, the jobbing printers that produced it, and the clients who used it.
Papers of twenty-minutes duration are invited for this interdisciplinary conference from postgraduates, independent researchers and established scholars.