The Ephemera Society News
The Ephemerist Autumn 2017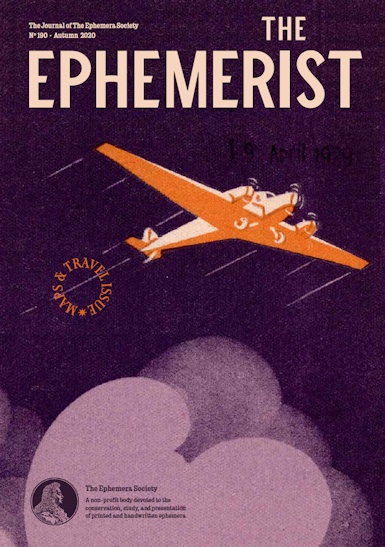 The Autumn issue of the society's journal is scheduled to be posted to members mid-October and contains the following articles:
Centre for Ephemera Studies | The A–Z of ephemera
John G. Sayers | A Sunlight Soap testimonial
Amoret Tanner | Swallow a bee at bedtime: collecting on a shoe string
Julie Anne Lambert | Michael Lawrence Turner (1935 – 2017)
Carina Broman | Swedish dance programmes
Plus regular favourites | Mrs Pepys' Diary and Notes & Queries
Cover image: Details from two advertisements for Jazz Dye Soap, early 1930s.
Spring Stampex 2018 will include ephemera exhibits
14- 17 February 2018
The Association of British Philatelic Societies (ABPS) Exhibitions and International Committee announces that it is inviting exhibits of ephemera to be entered at Spring Stampex.
'Ephemera' covers a vast range of printed and written items designed for a specific purpose - from beer mats to greetings cards and from pamphlets to train tickets. It provides fascinating insights into cultural trends over the centuries and generates much interest among collectors.
Building on their experience with Cinderella and postcard exhibits collectors of ephemera now have an opportunity to display their material. Exhibitors of ephemera can enter competitively so that their exhibits will be judged according to the competition rules, or they can enter non-competitively.
ABPS is taking this initiative in association with the Ephemera Society and are looking forward to welcoming exhibitors of ephemera to Stampex in February.
Spring Stampex
Business Design Centre
52 Upper Street
London N1 0QH
For further information and an application form: The ABPS website
Disseminated and re-circulated: popular culture in script and print
18 November 2017 · 9am - 6pm
Looking at diverse forms of script and print, from bestsellers and children's books to scrapbooks, educational ephemera and civic documents.
This colloquium will examine how print and manuscript cultures enabled and influenced the dissemination, absorption and recirculation of popular culture - broadly defined - with eighteenth century audiences of different ages and conditions. Reflecting popular interpretations, playing to popular taste and addressing every conceivable subject.
Lecture Theatre
Weston Library
Bodleian Library
Broad Street
Oxford
OX1 3BG
This event is free but places are limited so please reserve tickets in advance.
More information and registration details.
Museums Association Conference & Exhibition 2017
16-18 November, Manchester
The Museums Association Conference & Exhibition is the largest event of its kind in Europe for museums and heritage professionals. Over 1,500 senior staff discuss the latest issues, discover new practice and meet the world's leading suppliers and consultants.
This year's event is packed with content - including three fantastic themes on Audiences, Collections and Workforce. Delegates will have the opportunity to debate and discuss big ideas with colleagues from around the UK and internationally. Keynote speakers include Lemn Sissay, writer and broadcaster, Francesca Martinez, comedian and writer, Jeremy Deller, Turner Prize-winning artist and Jenny Waldman, director, 14-18 NOW.
There are a host of other sessions, practical workshops and training - all developed to facilitate fresh thinking. The social events give you the opportunity to see The Whitworth Art Gallery, Museum of Science and Industry and network at People's History Museum.
The third day to conference this year is a chance to visit a range of museums and galleries in Manchester with a programme of special events, exhibition tours, expert talks and behind-the-scenes visits to museums, galleries and cultural venues in the area, all included in the price.
For more information and bookings visit the Museums Association website.
OFFER: The most ephemeral of ephemera
A packet, probably early 20th century, of Bromo Paper (unused!) for the water closet, made in the USA. Anyone prepared to give it a good home (UK only), please contact:
BROMO has been on the market for sixty years and is known in most civilized countries. BROMO is so well known that lengthy description is not necessary. We merely wish to say that BROMO is, as it always has been, a soft, strong sheet of toilet paper, unsurpassed in quality and purity because it is made of materials that have been cooked under steam pressure for hours before being reduced to the consistency necessary for making into paper.

Read more about the history of toilet paper - "a history which cloacopapyrologists are only now beginning to document adequately" - a revised version of the article originally published in The Ephemerist, December 1990. Ian Maxted introduces a blinkered world to the young academic discipline of cloacopapyrology.
Oxfam Bookshop in St. Albans
Help required
This Oxfam shop has a small ephemera section which has been developed and well looked after by a volunteer who is unfortunately unable to continue.
They are seeking someone who might be interested in taking over this role, it is just for a few hours a week at a time to suit.
Phone: 01727 8615898
10 Catherine Street, St Albans, AL3 5BX
Vive Les Satiristes! French Caricature During the Reign of Louis Philipp, 1830-1848
Oak Knoll Press
Published to accompany the exhibition Vive Les Satiristes! French Caricature During the Reign of Louis Philipp, 1830-1848, held at the Grolier Club, March 22 through May 27, 2017. Collector's Statement, Introduction, and "The Editor/Publisher and His Artists" by Josephine Lea Iselin, followed by an illustrated checklist of the collection.
A fascinating overview of the Golden Age of social and political satire in 19th-century France, focusing on the role of controversial and wildly popular journals such as La Caricature and Le Charivari, and the great illustrators - Daumier, Grandville, and others - who captured in these pages the foibles of those around them with unmatched humor, skill, and style.