The Ephemera Society News
The Ephemera Society Journal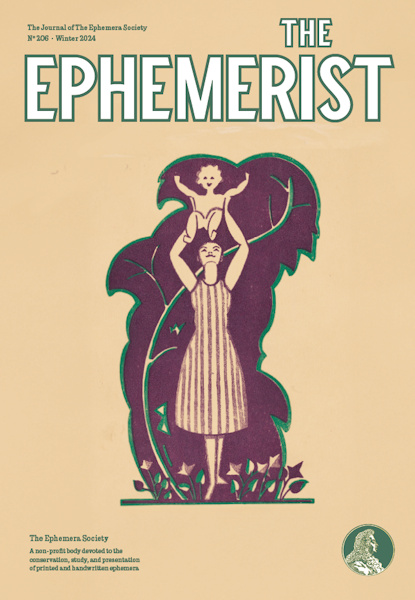 No 190 Autumn 2020 issue of The Ephemerist, the society's high quality magazine, was posted to members on 13 October.
The cover shows a detail from early flight timetable for Swedish airline AB Aerotransport.
For those readers who have had their travel plans curtailed this year, we bring you ephemeral exploration in the form of Issue No 190 of The Ephemerist — our Maps & Travel Issue.
So many Members have been inspired by this topic that we have been able to produce a bumper issue that has taken us to Europe by early flying machine, across the Atlantic on The Great Eastern, to Italy for a Grand Tour, and to contemporary Japan. Bon voyage !
The Editor is always delighted to receive contributions about any aspect of ephemera and collecting ephemera. Submission deadlines are:
Spring Nº 192, 15 February 2021
Summer Nº 193, 15 May 2021
Why not become a member today? A year's membership of The Ephemera Society entitles you to four issues. Join us! The Ephemera Society is always pleased to welcome new members. Payment can be made online via PayPal.
Secrets of the Great Ocean Liners
By John G Sayers
Before the advent of commercial transatlantic flights in the early 1950s, the only way to travel between continents was by sea. During the golden age of ocean liners, between the late nineteenth century and the Second World War, shipping companies ensured their vessels were a home away from home, providing entertainment, dining, sleeping quarters and smoking lounges to accommodate their passengers for voyages that could last as long as three months.
Secrets of the Great Ocean Liners leads the reader through each of the stages – and secrets – of ocean liner travel, from booking a ticket and choosing a cabin to shore excursions, dining, on-board games, social events, romances, and disembarking on arrival. Additional chapters disclose wartime voyages and disasters at sea.
The shipping companies produced glamorous brochures, sailing schedules, voyage logs, passenger lists, postcards and menus, all of which help us to understand the challenges, etiquette and luxury of ocean liner travel. Diaries, letters and journals written on board also reveal a host of behind-the-scenes secrets and fascinating insights into the experience of travelling by sea. This book by Ephemera Society member John G Sayers dives into a vast, unique collection to reveal the scandals, glamour, challenges and tragedies of ocean liner travel.
ISBN: 9781851245307 · 256 pages, 228 x 176 mm · c.150 colour illustrations
Publication November 2020 · More details: Bodleian Bookshop
tat* – Inspirational Graphic Ephemera
Author and designer Andy Altmann
Tat* is a bit of a graphic designer's curse. Walk into any design studio and you'll see bits and pieces of graphic ephemera pinned to the walls or taped to a computer screen. Even the purist will have a secret cache hidden away some where.
Designer and Ephemera Society member Andy Altmann has been collecting tat for more than 30 years. He finds inspiration in the ordinary, and magic in the mundane. Finally he has decided to share his collection with the world.
Conceived and edited by Andy, this is the apotheosis of tat. A visual treasure trove, full of surprises, it should find a place on every graphic designer's desk.
The publisher has just started a Kickstarter campaign: Details
Publication date: 1 March 2021 · Hardcover · 25 × 21cm (10 × 8 ¼ in) · 400pp · 400 colour illustrations · £45 | $60 · ISBN 978-1-911422-27-3 · Publisher: Circa Press
Logomotive: Railroad Graphics and the American Dream
By Ian Logan & Jonathan Glancey
Logomotive is a visual tribute to the heyday of railroad graphics and design. Arriving in America in 1968, the London designer Ian Logan and Ephemera Society member was blown away by the logos and slogans he saw painted on the sides of freight trains rumbling down Main Street.
In between designing fabrics for Mary Quant and Jeff Banks, he went back time after time with his camera, travelling across America, wandering into freight yards to record the Route of the Eagles, the Rebel Route, the Speedway to America's Playground and so many other mesmerizing advertising ideas of the day.
RRP: £35.00 · ISBN: 978-1-873329-50-4 · Format: 187 x 264 mm landscape · Extent: 272 pages · Pictures: 400 in colour · Binding: Hardcover no jacket · Publisher: Sheldrake Press
Magic Papers: Conjuring Ephemera From 1890 to 1960
Magic is largely a solitary endeavour, but the channels of its tips and tricks had a little-known heyday around a hundred years ago. That golden era circulated secrets in printed matter packed with flamboyant custom lettering, sensational language and mystifying illustrations — largely made by and for its own community, compiled and consumed by dedicated practitioners and hobbyists.
Often unregulated and infrequently archived beyond private collections, these magic papers collided with cults of personality, unshakable passion, and a thirst for notoriety.
The book features a huge assembly of printed material from the collection of Philip David Treece, a magic expert dedicated to preserving a golden era of magic publishing. This collection celebrates journals, periodicals, books and other ephemera created for the magic community between 1890 and 1960. Each book includes a 16 page gloss insert featuring a collection of magical apparatus.
144 pages + 16 page insert · Soft cover with flaps · 245x340mm
Limited to 800 copies · ISBN: 9781916412149
Publisher: CentreCentre Books
MacDonald Gill: Charting a Life
By Caroline Walker
MacDonald 'Max' Gill (1884-1947) was an architect, letterer, mural painter and graphic artist of the first half of the twentieth century, best known for his pioneering pictorial poster maps including the whimsical Wonderground Map of London Town.
His beautiful painted panel maps decorate the Palace of Westminster and Lindisfarne Castle and the alphabet he designed in 1918 is still used on the British military headstone. He enjoyed close links with many leading figures in the arts & crafts world: the architects Sir Charles Nicholson, Sir Edwin Lutyens and Halsey Ricardo, the calligrapher Edward Johnston, Frank Pick of the London Underground, and of course his brother – the sculptor and typographer Eric Gill.
Overshadowed in recent times by his controversial sibling, MacDonald Gill was nevertheless a significant artist of his time. With much of his four-decade output touching on the remarkable events and developments of his time – including two world wars, the decline of Empire, the advent of flight, and innovations in communications technology, his work also takes on a unique historical importance. Drawing chiefly from family archives, this biography of MacDonald Gill is the first publication to tell the story of this complex and talented man.
ISBN: 9781912690893 · 336 pages - 240mm x 196mmmm
Published:1 June 2020 · Publisher: Unicorn
Thomas Cook Archive Saved!
"A treasure trove of social history" The Times
An archive of business and travel history with national and international significance is to be preserved and secured for the future in the county, after the Record Office for Leicestershire, Leicester and Rutland was selected as the new permanent home of the Thomas Cook archive collection.
The Record Office, which is run by Leicestershire County Council in partnership with Leicester City Council and Rutland County Council, was awarded the honour of housing the internationally significant collection following a bidding process organised by the Business Archives Council and Crisis Management Team for business archives in liaison with the Official Receiver.
The entire Thomas Cook archive, which encompasses records from the earliest days of package travel right up to the modern day, is now being transferred to the Record Office in Wigston.
The Thomas Cook Archive in its new home at the Record Office for Leicestershire, Leicester and Rutland. The huge collection is made up of thousands of individual items, including minute books and staff records, posters, travel guides and timetables.
It also features 60,000 photographic images and souvenirs from Thomas Cook's 178-year history, including glass and china, uniforms through the ages and even a model of a Nile steamer. The archive will be the single largest collection at the Record Office, which has six miles of shelving representing 1,000 years of the history of Leicestershire, Leicester and Rutland.
Thomas Cook Archive Saved!
The former archivist Edmund Swinglehurst features on the cover of the 1991 issue of the society's journal.
Writing about the Cook collection in the December 1985 issue of "The Ephemerist" Edmund calls for a concerted effort among travel companies, and others, to conserve their holdings and extend their accessibility.
He rounds off the article with this final paragraph: "Tourist travel has changed the world, and it will continue to do so. The story is only half told and as the world's millions intermingle so the significance of the phenomenon of travel will become more evident- revealed in large part by the ephemera created by the business of travel and preserved by thoughtful travel companies and individuals collectors."