The Ephemera Society News
The Ephemerist
Newly designed and beautiful, full of intrigue and interest, vibrant and gorgeous the Winter issue of The Ephemerist, the society's journal, was posted to members in January. A year's membership of The Ephemera Society entitles you to four issues in 2018. Join us! The Ephemera Society is always pleased to welcome new members. Payment can now be made online via PayPal.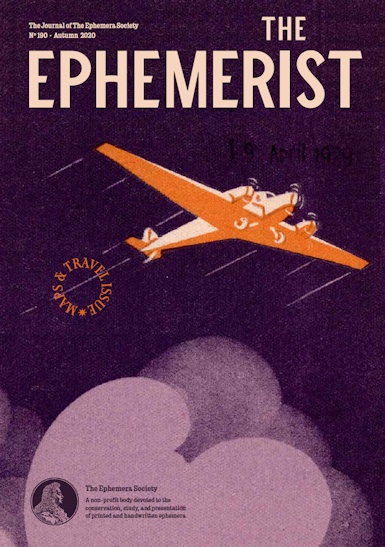 In this 32pp issue:
Lost inside the collector's cabinet | Rick Poynor
John and Griselda Lewis Printing Collection | David Plant
The 1924 British Empire Exhibition | John G. Sayers
Old Puzzle Cards | Anon
Plus regular favourites | Mrs Pepys' Diary and Notes & Queries
Valentines: Highlights from the Collection at The Fitzwilliam Museum
Author: Rebecca Virag
the Fitzwilliam Museum has a large collection of around 1,600 Valentines, which range in date from the early eighteenth century to the 1920s. The vast majority were left to the Museum in 1928 by mathematician and Fellow of Trinity College, J.W.L. Glaisher.
Two more Cambridge alumni, the Rev. Herbert Bull (Trinity) and Sir Stephen Gaselee (King's) also gave their much smaller collections of valentines to the Museum in 1917 and 1942. The Bull valentines are particularly fascinating as they are rare survivals of mid-eighteenth century silhouette cut-paper work and are unlike anything collected by either Glaisher or Gaselee. The Glaisher collection alone is one of the largest amassed by a single collector currently in a UK public collection.
The Glaisher valentines have not been seen in public since 1995, some twenty-three years ago and since then the entire valentine collection has been catalogued, researched, photographed and re-housed. This selection of highlights has been published to coincide with a new display of some of these extraordinary objects as part of the exhibition, The Object of my Affection: stories of love from the Fitzwilliam collection (Until 28 May, 2018).
Dashers and dandies: elegance or vanity
Victorian valentines and the the artifice of dress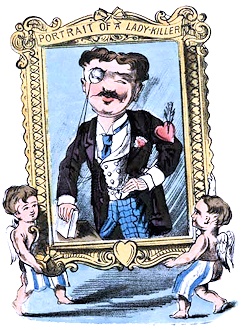 Ephemera Society member Julie Anne Lambert's post on the Bodleian Libraries blog gives an insight into the fashions depicted on the Victorian valentine.
Men and women were equally lampooned. One of the aims of the valentine's satire was to expose to general derision a classic lower class character with upper class aspirations. It is said that delicacy is a great virtue, well there is no shortage of indelicacy to be found amongst these Victorian comic valentines.
The John Johnson Collection of Printed Ephemera has collaborated with the National Valentine Collectors Association to create an exceptional resource over the past few years for everyone interested in the history of valentines. This year's theme, just uploaded, is Fashion and dress: satirical and sentimental.
Visit the collection on Pinterest
Stampex Exhibition: Ephemera Award
Ephemera Society member, Robertino Poposki, has been awarded the Silver Prize in the Ephemera class of the recent Stampex International Exhibition.
The display featured old and curious playing cards as in the image on the right - the Tarot cards of Jacques Vieville 1643-1664.
After his success Robertino commented "I hope that this contributes towards further promotion of Ephemera as a recognised category within the Philatelist community".
Premier Collection of Antique Valentines Comes to The Huntington
The Huntington Library, San Marino, California has acquired the Nancy and Henry Rosin Collection of Valentine, Friendship, and Devotional Ephemera contains 12,300 rare examples from the 17th to 20th century.
Considered the best private collection of its kind in the world, the collection contains approximately 12,300 greeting cards, sentimental notes, folk art drawings, and other tokens of affection that trace the evolution of romantic and religious keepsakes made in Europe and North America from 1684 to 1970.
The Rosins had given the collection to their son, Bob, who together with his wife, Belle, donated it to The Huntington for safekeeping. "This collection was carefully created by my parents," he said. "I can't think of a better place for it to be, given its historical and educational value."
The Rosin Collection brims with well-preserved paper (and in some cases, vellum or mixed media) materials that range from 18th-century devotional cards, hand-cut by French and German nuns, to elegant Biedermeier-era (1815-1848) greeting cards complete with hand-painted love scenes, gilded embossing, mother-of-pearl ornaments, and silk chiffon.
The collection includes cameo-embossed lace paper valentines from England, elaborate three-dimensional and mechanical Victorian paper confections, as well as handmade works of American folk art demonstrating traditional paper-cut techniques (scherenschnitte) and colorful Germanic Fraktur illustrations.
Some of the most historically significant items include heartrending Civil War soldiers' valentines with personal notes detailing the hardship of war and longing for home. The Rosin Collection also contains bitingly satiric "vinegar" valentines, dance cards, memory albums, and watch papers (sentimental notes inserted into pocket watches), among other items relating to the history of love and devotion.
The Huntington Acquires Unique Darwin Photo Album
The Huntington Library, San Marino, California has acquired a unique carte-de-visite photograph album, containing 19 prints, that offers a tantalizing glimpse into the intimate family circle of renowned scientist Charles Darwin (1809-1882). Inscribed to a member of Darwin's circle about whom nothing is known, and depicting several unpublished images of sitters ranging from close family members to those not yet identified.
Victorian photographic albums were cherished artifacts in middle- to upper-class homes, serving as keepsakes to preserve the memory of family and friends. This one offers scholars new insight into the complex web of interpersonal relationships surrounding Darwin. "While we know some of the individuals in the pictures, including Darwin himself, of course, there are others that we have yet to identify," said Jennifer Watts, The Huntington's curator of photography and visual culture. "This is, in a very straightforward way, a researcher's dream."
Similar in size to a prayer book, this album of portraits has the look and feel of a devotional tome, Watts added. "Its sacramental appearance runs counter to our contemporary view of Darwin as pronouncer and arbiter of evolution. At a time in which family bonds proved indispensable this album is an object at the intersection of science and sentimentality."
1st International Ephemera Studies Symposium
25-27 April 2018, Ankara, Turkey
For the first time in Turkey, this conference is going to assess the relevant and significant researches and studies that have been undertaken both in Turkey and abroad up to the present time. It will also bring together the academics, collectors, curators and experts from different disciplines who have been actively participating in ephemera studies.
The purpose of the symposium will be to provide a multidisciplinary perspective about ephemera studies by presenting a methodological, analytical and classifying approach as well discussing both national and international efforts which have been made in different disciplines.
The symposium will be organized at VEKAM (Ankara) under the auspices of Koç University Vehbi Koç Ankara Studies Research Center (VEKAM), and with the contributions of Assist. Prof. Dr. Bahar Gürsel and Middle East Technical University's (METU) Department of History.
The international scientific committee of the symposium has decided to concentrate on six different themes during the event: Information and Document Management, Urban Studies, Collectors and Museology, Cultural Studies, Art and History Writing.
Cambridge University Library: Broadside Day 2018
24 February 2018
The Broadside Day is the annual one-day conference for people interested in Street Literature in all its fascinating aspects - broadsides, chapbooks, songsters, woodcuts, engravings, last dying speeches, catchpennies, wonder-tales, almanacs, fortune-tellers, and all kinds of cheap printed material sold to ordinary people in city streets, at country fairs, and from pedlar's packs up and down the country in past centuries. The Day consists of short papers, presentations, displays, discussions, and is suitable for beginners and experts alike, who will all enjoy its lively and informal atmosphere.
Street literature, in the form of broadside ballads, was first produced in the early 16th century, and was at first concentrated in London, but later spread to every part of the British Isles and lasted into the 20th century. But its glorious heyday was in Victorian times when tens of thousands of items were produced every year by jobbing printers everywhere.
The material was often very badly printed, on the cheapest quality of paper, and might be genuine news or a complete fiction, but for most of this time it was one of the only forms of reading matter readily available to the poor, and is therefore tremendously interesting to a wide range of modern-day researchers and enthusiasts.
This year's Broadside Day will be hosted by the Rare Books Department of Cambridge University, which is home to the biggest single collection of 18th and 19th century broadsides in Britain, comprising over 30,000 ballads compiled by Sir Frederic Madden, Keeper of the Department of Manuscripts at the British Museum.
Printing for the workplace: industrial and business publishing
Thursday 12 July 2018 · 9AM - 5PM · Gladstone's Library, Hawarden, Flintshire, Wales
Every company that has ever issued a catalogue, advertising leaflet or annual report, can be regarded either as a publisher or a user of publishing services, and their products can be termed either 'industrial' or 'business publishing'.
For the purpose of this conference 'industrial and business publishing' is defined as the production and issuing of commercial literature that not only utilizes the skills of traditional publishing (authorship, editorial direction, the commissioning of artists, designers and photographers) but also necessitates the supervision of printing and distribution. These customary activities are, however, executed by—or for—an industry for which publishing is not the primary business.
Industries not engaged in printing as their primary concern have also utilised printing for the manufacturing of its products which may use substrates other than paper: for example transfer printing in the production of ceramics or enamel or the printing on tin.
The association between industry and publishing is not new. Papers are invited that consider its development from its earliest days through to the end of the twentieth century, by which time the issuing of printed matter had become an important ancillary manufacturing activity and industrial publishing finally recognised as a professional adjunct to business.
Papers are also welcome that not only consider the design, production and distribution of industrial and business publishing, but also the companies that issued it, the jobbing printers that produced it, and the clients who used it.
Papers of twenty-minutes duration are invited for this interdisciplinary conference from postgraduates, independent researchers and established scholars.