The Ephemera Society News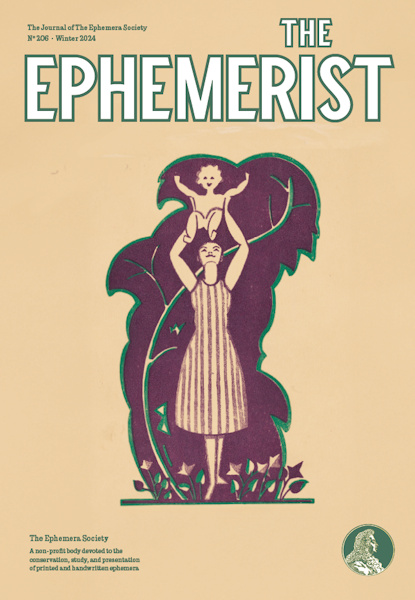 The Winter issue of the society's journal "The Ephemerist" is due to be despatched to our lucky members on 17 January.

This edition not only presents a touching collection of late nineteenth Christmas greetings cards, but information about the industrial developments that allow messages to be sent securely through the post — namely stamps and envelope patents, the basis of several of our members' collections.

Why not become a member today? A year's membership of The Ephemera Society entitles you to four issues. Join us!

The Ephemera Society is always pleased to welcome new members. Payment can now be made online via PayPal.

Poster Stamp Collectors Club
PSCC was formed in 2005 to increase awareness of an important area of ephemera often overlooked.
These beautiful stamps, used for product promotion, exhibitions, political and social causes and so forth, are a window into their times, social and historical. While many collectors seek only poster stamps, they are a wonderful addition to any thematic or topical collection.
For membership details visit the PSCC website
Save The John Jarrold Printing Museum
The National Printing Heritage Committee (NPHC) has issued a press-release (dated 19 November 2018) regarding the threat to the John Jarrold Printing Museum posed by a planning application being considered by Norwich City Council. The press-release is available to read here.
Tickets to the Healing Arts: Medical Lecture Tickets of the 18th and 19th Centuries
Online Exhibition
For more than the first century of formal medical education in America, medical schools were proprietary in nature. The faculty, a collection of independent entrepreneurs, collected fees directly from medical students and in return, issued them tickets for admission to their course of lectures.
Medical lecture tickets dating as far back as the 1760s survive as physical evidence of this proprietary system of medical education. The tickets were meant to be ephemeral, a paper that admitted a medical student to a course on the road to becoming a physician, but unlike a diploma, nothing intended for longevity.
Fortunately, a significant number of students kept their tickets as mementos and over time, a lesser but still significant number of those keepsakes survive in private and institutional collections, much to the delight of archivists, scholars, medical historians, interested physicians and others with curiosity.
As with all artifacts, medical lecture tickets essentially tell stories about people. Professors who issued the tickets and medical students who purchased them were individuals of diverse medical, historical, military, cultural and human interest and accomplishment. This catalogue unfolds nearly 200 of their stories from 100 tickets selected from the vast ticket collection of the University of Pennsylvania Archives and Records Center.
Image: Dalhousie College and University, medical lecture ticket, 1902-03
Copyright © Dalhousie University