The Ephemera Society News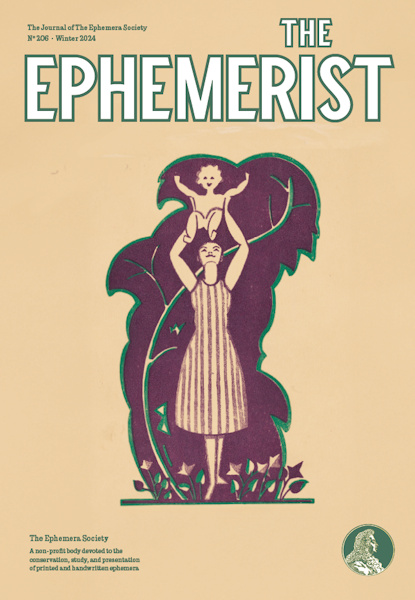 The Ephemerist
Newly designed and beautiful, full of interest and colour the Autumn issue of The Ephemerist, the society's journal, will be posted to members in October.

A year's membership of The Ephemera Society entitles you to four issues. Join us!

The Ephemera Society is always pleased to welcome new members. Payment can now be made online via PayPal.

Auction News
Monday 24 September - Southgate Auction Rooms
A large selection of ephemera is available at this sale, including three Heath Robinson humorous advertising illustrations.
One of three scarce publicity flyers for Coke Oven Products Ltd, 1932. Duroid was an anti-skid road surface material.
Southgate Auction Rooms
55 High Street
Southgate
London N14 6LD
UK
Eric Ravilious Scrapbooks
Peyton Skipwith and Brian Webb
Lund Humphries is publishing the first book to present the preparatory works and visual musings of the enduringly popular Eric Ravilious, revealing the inspirations and processes behind some of Ravilious's most famous works.
To the interested observer the collected volumes of artist-designer Eric Ravilious's preparatory works and materials provide a veritable mine of information about his work and working methods, particularly regarding the masterful development of his signature pure pattern.
Ravilious's scrapbooks represent a conscious accumulation of reference material, revealing his interest in subjects as diverse as tennis, cricket, fireworks and aeronautics, alongside a multitude of sketches, tracings and proofs of engravings.
Bringing together over 170 images taken from the artist's five scrapbooks, accompanied by instructive commentary by the authors, this new book provides a fascinating record of the febrile imagination of one of Britain's best-loved artists.
172 colour illustrations
ISBN 978-1-84822-259-5
300 x 240mm/ Hardback/ 208 pages
UK Publication 28 September 2018
£40
Talk: Poster Girls: A curator's perspective
Thursday 11 October 2018
19:00 – 20:30
Take a peek behind the scenes of Poster Girls: a century of art and design, with exhibition co-curator David Bownes.
Hear about the considerations and challenges involved in displaying this varied body of work, and in championing its important messages.
This talk will bring a focus to the design significance of the artworks, and celebrate the women who created them.
London Transport Museum
Covent Garden Piazza
London WC2E 7BB
UK
Museums Association Conference & Exhibition 2018
8-10 November, Belfast
The Museums Association Conference & Exhibition is the largest event of its kind in Europe for museums and heritage professionals. Over 1,500 senior staff discuss the latest issues, discover new practice and meet the world's leading suppliers and consultants.
The theme of Belfast 2018 is Dissent: Inspiring Hope, Embracing Change - having the courage to challenge traditional thinking to transform museums and society. And what better place to do this than Belfast. We highlight the role museums of all sizes and types can play as dissenting organisations, standing with their communities as they encourage activism and promote positive social change.
This year's event is packed with content and delegates will have the opportunity to debate and discuss big ideas with colleagues from around the UK and internationally.
Keynote speakers include Rita Ann Higgins, award-winning Irish poet and playwright and Laura Raicovich, US-based writer and artworker. Directors in Conversation session will feature Lynn Scarff, director, National Museum of Ireland; Hilary McGrady, director-general, National Trust; Kathryn Thomson, chief executive officer and director, National Museums Northern Ireland; and Kim Streets, chief executive, Museums Sheffield. Other sessions cover topics such as co-curation, activism, curating conflict, diversity, equality, protest, Brexit, soft power, and the future of collections.
The third day to conference this year is a chance to visit a range of museums and galleries across Northern Ireland and Dublin. There is a programme of special events, exhibition tours, expert talks and behind-the-scenes visits to museums, galleries and cultural venues in the area, all included in the price. The programme includes cultural and political tours in Belfast, Downpatrick, Dublin and Derry~Londonderry, the UK City of Culture 2013.
Early bird booking ends on 20 August 2018. For more information and to book your place go to www.museumsassociation.org/conference