The Ephemera Society News
OFFER: The most ephemeral of ephemera
A packet, probably early 20th century, of Bromo Paper (unused!) for the water closet, made in the USA. Anyone prepared to give it a good home (UK only), please contact:
BROMO has been on the market for sixty years and is known in most civilized countries. BROMO is so well known that lengthy description is not necessary. We merely wish to say that BROMO is, as it always has been, a soft, strong sheet of toilet paper, unsurpassed in quality and purity because it is made of materials that have been cooked under steam pressure for hours before being reduced to the consistency necessary for making into paper.

Read more about the history of toilet paper - "a history which cloacopapyrologists are only now beginning to document adequately" - a revised version of the article originally published in The Ephemerist, December 1990. Ian Maxted introduces a blinkered world to the young academic discipline of cloacopapyrology.
Oxfam Bookshop in St. Albans
Help required
This Oxfam shop has a small ephemera section which has been developed and well looked after by a volunteer who is unfortunately unable to continue.
They are seeking someone who might be interested in taking over this role, it is just for a few hours a week at a time to suit.
Phone: 01727 8615898
10 Catherine Street, St Albans, AL3 5BX
Spring & Summer issues of The Ephemerist - They're on their way!

The two journals were posted on Tuesday 25 July and should be arriving on your doormat in the next few days (if you are wise enough to be a member). There is a wealth of interest inside each 24 page issue, see below for details.
The Ephemerist Summer 2017

The Summer issue of the society's journal contains the following articles:
Henna Karhapää | Three trade cards of Matthew Darly
Anna Scully | Railway timetables for 'special trains' from the year 1880
John G. Sayers | Coronation voyage on RMS Queen Mary
University of Reading typography students | First time at the Fair
Plus regular favourites | Mrs Pepys' Diary, Bookstack and Notes & Queries
Front and back cover image: Detail from front cover of The rocket racket: an ABC of RP firing
(London: Air Ministry, 1944), a 32-page booklet for RAF servicemen.
The Ephemerist Spring 2017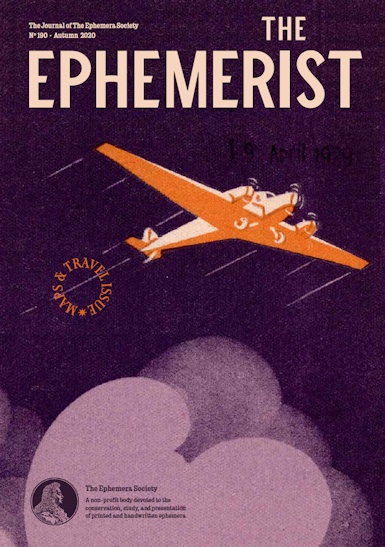 The Spring issue of the society's journal contains the following articles:
Graham Twemlow | Spot the difference
David Knott | Collecting on a shoe string: compliments slips
John G. Sayers | A Sunlight Soap testimonial
Geraldine Beare | The Strand Magazine, 1891–1950
Plus regular favourites | Mrs Pepys' Diary and Notes & Queries
Front and back cover image: Detail from an orange crate label, c.1940s.
Chromolithographed in six colours.
Museums Association Conference & Exhibition 2017
16-18 November, Manchester
The Museums Association Conference & Exhibition is the largest event of its kind in Europe for museums and heritage professionals. Over 1,500 senior staff discuss the latest issues, discover new practice and meet the world's leading suppliers and consultants.
This year's event is packed with content - including three fantastic themes on Audiences, Collections and Workforce. Delegates will have the opportunity to debate and discuss big ideas with colleagues from around the UK and internationally. Keynote speakers include Lemn Sissay, writer and broadcaster, Francesca Martinez, comedian and writer, Jeremy Deller, Turner Prize-winning artist and Jenny Waldman, director, 14-18 NOW.
There are a host of other sessions, practical workshops and training - all developed to facilitate fresh thinking. The social events give you the opportunity to see The Whitworth Art Gallery, Museum of Science and Industry and network at People's History Museum.
The third day to conference this year is a chance to visit a range of museums and galleries in Manchester with a programme of special events, exhibition tours, expert talks and behind-the-scenes visits to museums, galleries and cultural venues in the area, all included in the price. Early bird booking ends on 16 August 2017.
For more information and bookings visit the Museums Association website.
Vive Les Satiristes! French Caricature During the Reign of Louis Philipp, 1830-1848
Oak Knoll Press
Published to accompany the exhibition Vive Les Satiristes! French Caricature During the Reign of Louis Philipp, 1830-1848, held at the Grolier Club, March 22 through May 27, 2017. Collector's Statement, Introduction, and "The Editor/Publisher and His Artists" by Josephine Lea Iselin, followed by an illustrated checklist of the collection.
A fascinating overview of the Golden Age of social and political satire in 19th-century France, focusing on the role of controversial and wildly popular journals such as La Caricature and Le Charivari, and the great illustrators - Daumier, Grandville, and others - who captured in these pages the foibles of those around them with unmatched humor, skill, and style.