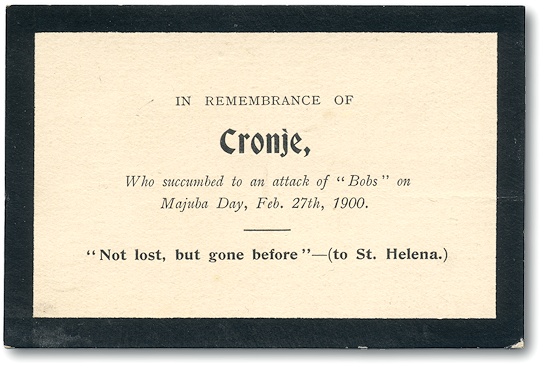 Mock Mourning Card
Mourning card "In remembrance of Cronje"
27 February 1900
111 x 75mm (4½ x 3in)
A fine example of a mock mourning card referring to the second Boer War in South Africa, 1899-1902.
The Dutch Boers had proclaimed an independent republic in 1880 triggering an outbreak of war with Britain. Majuba Day was named after the Battle of Majuba Hill which took place during the first Boer War in February 1881, it was an outstanding victory for the Boers and a humiliating defeat for the British.
Nineteen years later on the anniversary of the Battle of Majuba Hill, General Piet Cronjé surrendered with four thousand Boers on Majuba Day, 27 February, to Lord Roberts of the British Army.
Cronjé became a prisoner-of-war and exiled to the island of St. Helena until the conclusion of peace negotiations in 1902.