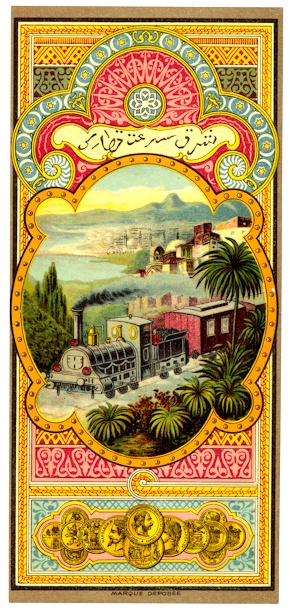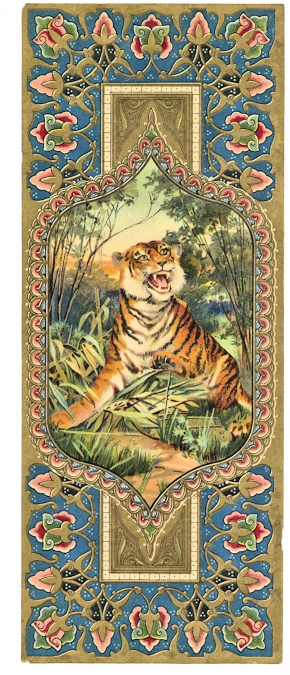 Fez Label
European printers of Fez labels produced extremely elaborate designs,
the tiger was a popular exotic image.
Left one: 95 x 241mm (3¾ x 9½in)
In its hey day the fez was worn in many countries in the Near and Middle East. The labels that adorned fez cartons were colourful, sometimes elaborate, often bearing little more than a striking illustration by way of indentification.
In the mid 1830s the Imperial Fez Factory, located in Instanbul, was manufacturing over one thousand five hundred fezzes a month. The popularity of the fez grew over the years and the factory struggled to keep up with demand. In the early 1900s enterprising businesses in Europe stepped in to supply the necessary quantities.
To increase their appeal the fez boxes were decorated "with labels of diverse designs and dazzling brilliance; extraordinary example of the talent and imagination displayed by the artists and chromlithographers of the era. There was no longer any limit to the reproduction of different shades and colours and the use of half-tone screens for colour separation eventually enabled illustrations to be printed in more than eight different colours".
The fez label market was now being supplied largely from countries in Central Europe including France, Italy, Austria and Czechoslovakia.
In 1925 Mustafa Kemal Atatürk banned the fez in Turkey as part of his modernizing reforms encouraging Turkish men to wear European attire.
Reference: Helen Wilkins, "The Fez and its Label", The Ephemerist, no. 90, September 1995.