The Fairy Doll
Set of six Liebig advertising trade cards illustrating scenes
from the ballet La fée des poupées
Printed by chromolithography
circa 1890
108 x 70mm (4¼ x 2¾in)
The Ballet The Fairy Doll or La fée des poupées, with the score composed by the Austrian Josef Bayer (1852-1913), was premiered at the Vienna Court Opera on the 4 October 1888.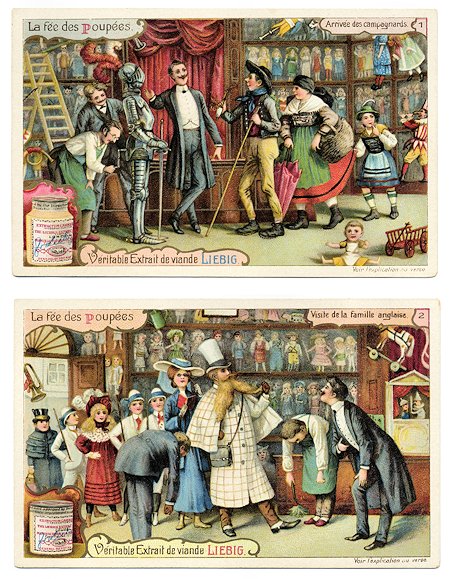 The curtain rises on a toy shop into which a wealthy but unsophisticated farmer and his family enter, as well as an English aristocrat and his family.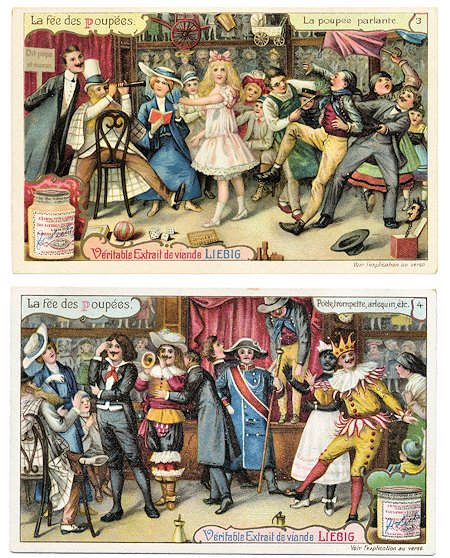 The shop's owner displays all his mechanical dancing dolls to the English family who are enchanted by the Fairy Doll, the most prized, and place an order to buy her.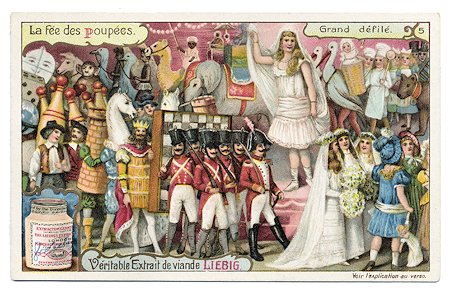 The shop closes, and as midnight approaches the shop magically bursts into life as the Fairy Doll steps out of her case and summons the other dolls out of theirs. They dance the Fairy Doll waltz together with several other toys that have come to life - chess pieces, animals, bowling pins and massed battalions of marching soldiers all join in a lively romp around the Fairy Doll.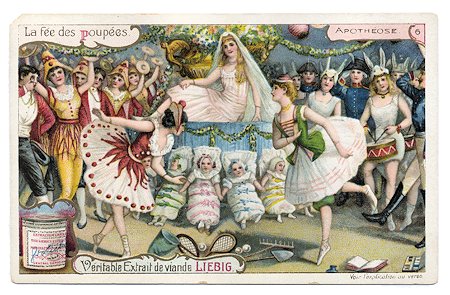 At one o'clock, they all return back into their cases, but the shop-owner has heard a noise, and comes into the room but finds everything in order. Suddenly, the Fairy Doll's case lights up and she steps out to confront him. Looking puzzled and astonished in equal measure he is surrounded by the dolls, the ballet ends with a grand finale and the curtain falls.