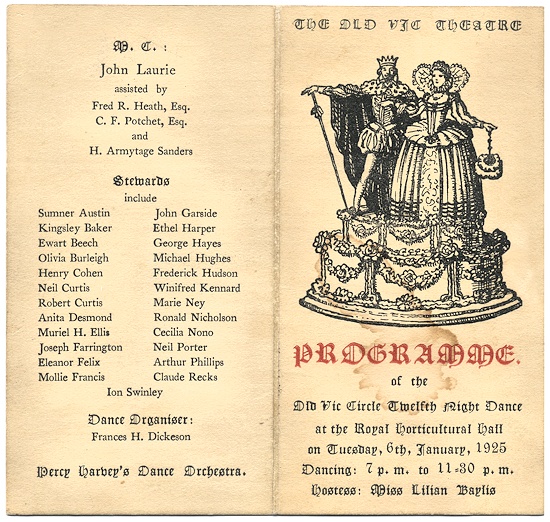 Twelfth Night Dance
Old Vic Circle Twelfth Night Dance
at the Royal Horticultural Hall
Master of Ceromonies: John Laurie
6 January 1925
121 x 114mm (4¾ x 4½in)
With the coming of the New Year this small piece of ephemera enchants us with an occasion that history appears to have forgotten. It was pleasing to discover that there was so much more interest to this dance programme than first thought when purchased at the society's summer fair last year.
In Britain, Twelfth Night traditions had been celebrated for hundreds of years. During the 19th century the middle-classes were in the habit of sending a magnificent Twelfth Cake with an accompanying sheet of printed Twelfth Night characters to friends and relatives.
Illustrated on the front of this card is an elaborately decorated Twelfth Cake embellished with the majestic figures of the King and Queen. It was good to know this ancient festival was still being celebrated in the early years of the 20th century, in this instance by the Old Vic Theatre, with the ceremony of Cutting the Cake taking place during the evening.
Hastily looking at the inside of the card, during the fair, it was assumed the two pencilled names would be of no significance, but later, with the benefit of closer scrutiny it became clear the scribbles were the autographs of two celebrities of the day, Marie Ney and Sybil Thorndike, both British actresses.
Whether Marie partnered the anonymous owner of the card in the Fox Trot or likewise Sybil in the One Step we'll never know. Perhaps the signatures were a memento for an admirer of a merry, happy time.