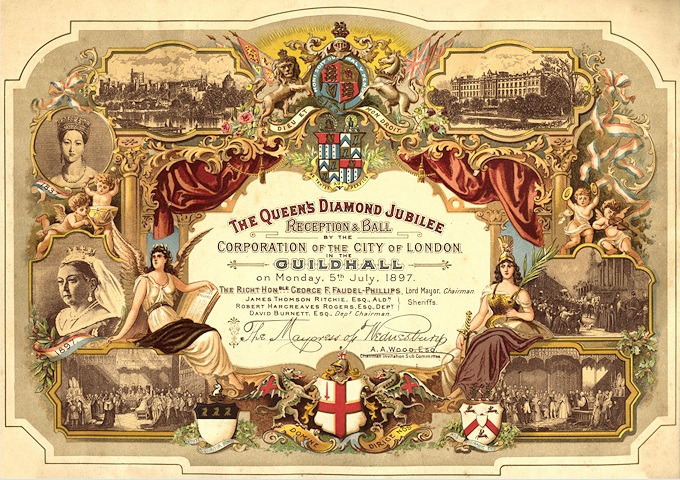 Blades, East & Blades
Invitation card of the Mayoress of Wednesbury to the
Diamond Jubilee Reception and Ball in the Guildhall
Monday 5 July 1897
356 x 280mm (14 x 11in)
The main features of the design include two portraits of Queen Victorian as she appeared in 1837 - taken from the painting presented by her to the Corporation - the other a reproduction made from the miniature at the Guildhall, which is a replica of that presented by Her Majesty to the Emperor of China. The Royal Arms occupy the chief position, on either side of which are representations of Buckingham Palace and Windsor Castle.
An interesting event in civic life is commemorated in the view of Her Majesty's procession passing St. Paul's on the way to the Lord Mayor's Banquet, 9 November 1837, copied from the picture which hangs in one of the Guildhall committee rooms.
The two remaining views represent Her Majesty's Coronation and the Marriage of Her Majesty. The Lord Mayor's Arms appear immediately below the Royal Arms. The City Arms are shown in the central position at the foot of the design, and on either side are those of the Sheriffs, above which are seated emblematical figures. Children, typifying Music and Festivity, are also introduced.
The card is further embellished with ornamental scroll work, and is the production of Blades, East & Blades, 23 Abchurch Lane, London. Sixteen stones have been used in the printing.
::
The above extracted from a covering letter, accompanying the invitation, providing additional information about the design. Below, Blades, East & Blades "With Compliments" card.