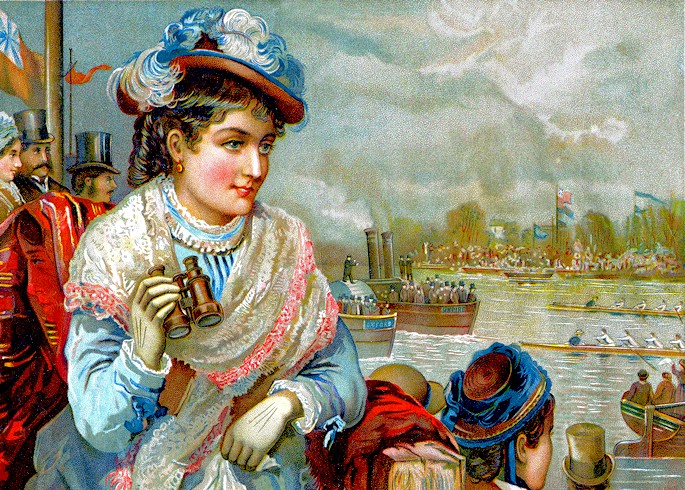 The Boat Race
Sunday 29 March 2020
"We have our light and dark blue belles of course - the blonde being for Cambridge on principle, for doesn't light-blue silk harmonise best with fair hair and fair complexion? And the brunettes being as staunch partisans of Oxford by reason of dark blue suiting their complexions the best."
The notion for a rowing race between the universities came from two friends - Charles Merivale, a student at Cambridge, and his Harrow schoolfriend Charles Wordsworth, who was at Oxford.
As a consequence Cambridge sent a challenge to Oxford and the first Boat Race was held on 10 June 1829 at Henley-on-Thames and thus a tradition was born that has continued to the present day, where the loser of the previous year's race challenges the opposition to a re-match.
For dedicated ephemera collectors this time of year is an ideal time to sift through their assortment of "treasures" in order to unearth the odd item they may have on the Boat Race.
The illustration above is just such a piece, printed by chromo-lithography, this stunning print had been preserved in a scrap album since the late 1880s until it found its way onto a dealer's stall at an Ephemera Society Fair.
For the newcomer to ephemera collecting there could be no better theme than the Oxford and Cambridge Boat Race, from 1829 up until the present time thousands of items of rowing related printed ephemera have been issued and still exist to commemorate every yearly event.