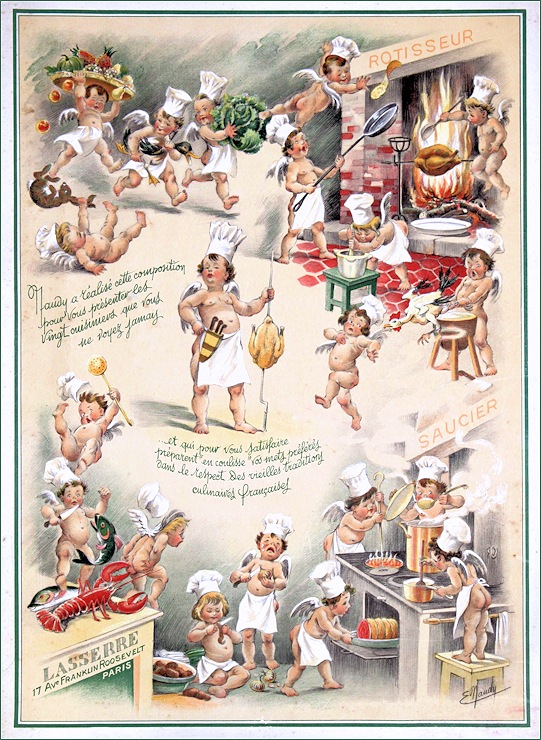 RESTAURANT LASSERRE
17 Avenue Franklin Roosevelt, Paris
Menu front cover illustrated by E. Naudy
280 x 381mm (11 x 15in)
circa 1940s
With restaurants being allowed to open this month how did a person devoted to the enjoyment of fine food and drink survive the sensual famine during lockdown?
A collector of printed ephemera could do no better than revisit their collection of menus to enjoy a tasty feast of visual delights and participate vicariously in the diner's expectation of an exquisitely presented culinary journey.
René Lasserre opened his restaurant in 1942, in the 8th arrondissement near the avenues of Champs-Elysées and Montaigne, during the Nazi occupation of Paris. Lasserre is one of the most renowned gastronomic institutions in Paris today, welcoming those who savour fine dining and elegant surroundings.
This saucy menu cover displays a cheeky illustration by the French illustrator E. Naudy. The captions translate: Naudy made this composition to show the twenty cooks that you never see and who know how to prepare for you "behind the scenes" your favourite dishes while respecting old French culinary traditions.
In this kitchen the oven gloves are definitely off and surprises are served up aplenty with a series of amusing scenes cascading downwards across the menu's surface, each one a sight to behold, as the cherubic chefs overcome the reluctant ingredients to achieve for their guests a meal to be welcomed and enjoyed.
Wartime rationing? Not so much, given that Lasserre's menu overflows with a mouth-watering selection of dishes featuring a wide range of fish, sea food, red meat, game, chicken, vegetables and fruit on offer which suggests the menu is from the late 40s, a few years after the liberation of Paris.