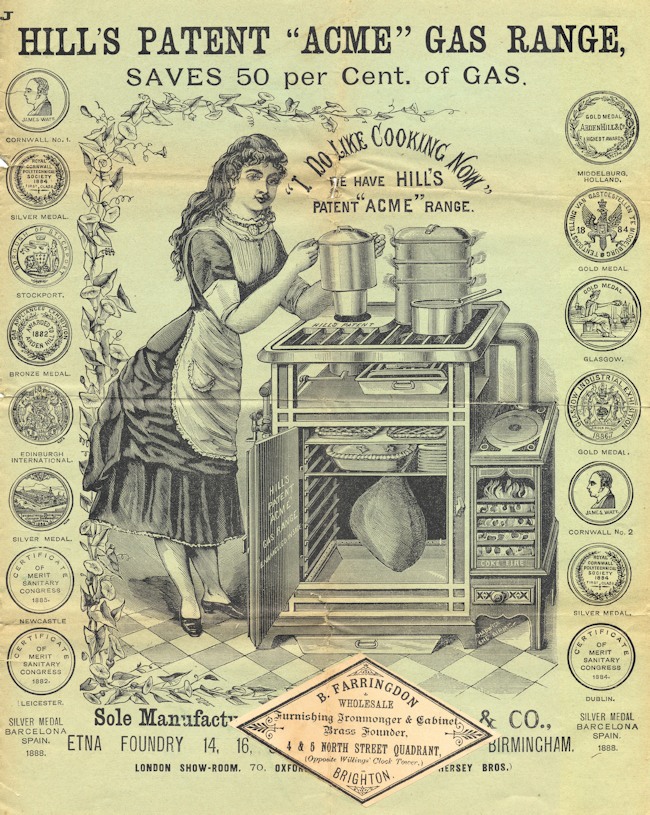 Home on the Range
Hill's Patent "Acme" Gas Range advertising leaflet
Sole Manufacturer Arden Hill & Co, Birmingham
229 x 292mm (9 x 11½in)
circa 1889
As we enter the fourth week of lockdown people are spending more time in kitchens cooking and baking while coming to terms with an extended period of spare time while being furloughed on home leave.
In the Victorian kitchen one hundred and forty years ago people were coming to terms with a new technology - cooking with coal gas, a cleaner more efficient method of preparing food.
Traditionally in kitchens of the middle-class houses cast iron ranges had been fuelled by wood or coal and had to be large enough to supply meals for all the household, family and servants included. By the mid century the coal range ruled supreme and despite the efforts of the gas industry and gas stove manufacturers very little headway had been made into the domestic market.
Improvements in the production and supply of coal gas, refinements in the production of cookers and stoves combined with the realisation by the gas industry that consumer education and marketing was of a paramount concern enabled the gas companies and stove makers to grow market share into the Victorian household.
The message served to the public was that stoves fuelled by gas were cost effective and significantly easier to clean and maintain. In contrast solid fuel cookers were a thing of the past - dirty, soot tainting food, fires requiring attention, ashes to be emptied, hot surfaces causing burns and space needed for coal storage - all these negatives made the gas cooker an attractive proposition inside the home.