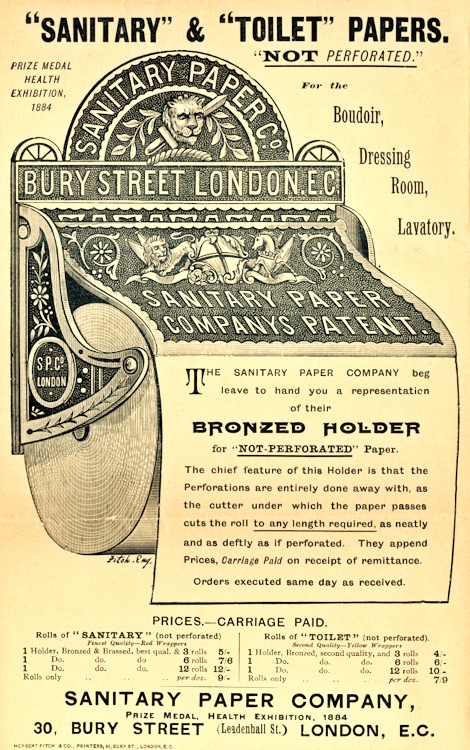 Sanitary Paper Company
"Not Perforated" toilet paper advertising leaflet
130 x 203mm (5¼ x 8in)
Sanitary Paper Company, 30 Bury Street, (Leadenhall St), London EC
Printed by Herbert Fitch & Co
1884
As the world hoards toilet paper we reflect on an item of ephemera from the Victorian era.
The Sanitary Paper Company, awarded a prize medal at the Health Exhibition 1884, boldly illustrates their method of dispensing and holding rolls of continuous toilet paper with their decorative bronzed and brassed holder.
A patent for a continuous roll of toilet paper was taken out in 1870 by Scott Brothers of Philadelphia, one of the earliest manufacturers of toilet rolls. By the 1880s The Sanitary Paper Company was offering a product in Britain for use with their holder, the chief feature of which "is that the perforations are entirely done away with, as the cutter under which the paper passes cuts the rolls to any length as neatly and deftly as if perforated."
The paper was manufactured in rolls five inches wide and 500 feet long and supplied in two qualities, "sanitary" finest quality - red wrappers, and "toilet" second quality - yellow wrappers.
Read more on the history of toilet paper in Ian Maxted's article, Sic transit gloria cloacarum, on our website, as he introduces a blinkered world to the young academic discipline of cloacopapyrology.