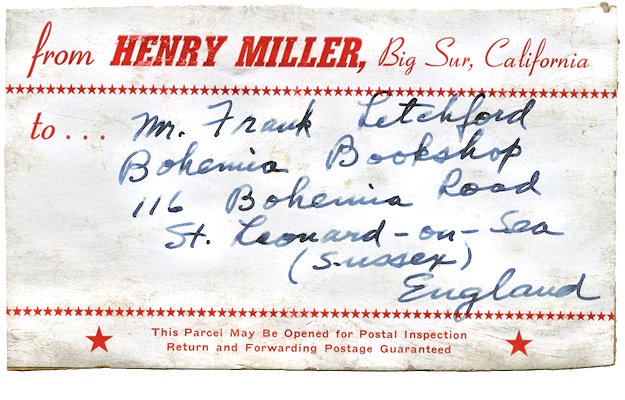 Parcel Label
The essential appeal of most forms of ephemera lies in their fragility, their vulnerability -
the very improbability of their survival.
Maurice Rickards
This small piece of paper, 127 x 76mm (5 x 3in), is all that remains of a parcel sent by the acclaimed American author Henry Miller (1891-1980) to a book dealer in St Leonards-on-Sea, England, an attractive seaside resort dating from the early 19th century, close to the historic town of Hastings.
Situated on a quiet side-street, hidden behind an unassuming shop front, a wealth of treasures was waiting to be discovered inside the Bohemia Bookshop. Trading from the 1950s-1970s, this was a small enterprise that had built up an enviable reputation in the trade and was run by a fascinating character named Frank Letchford together with his wife Joyce.
We are left wondering if this surviving specimen is penned by the famous writer himself. What was their connection to each other, was it purely business? We may never know. Yet this fragment of shiny printed paper with manuscript annotations still holds something of the magic of its moment.
Postscript
I think I can throw some light on this item. Frank Letchford contacted Henry Miller at Big Sur during the life time of his close friend, the artist Austin Osman Spare (1886-1956), and a correspondence ensued. Spare drew several portraits of Henry Miller which appeared in his later exhibitions. I hope this clarifies things a little.
William