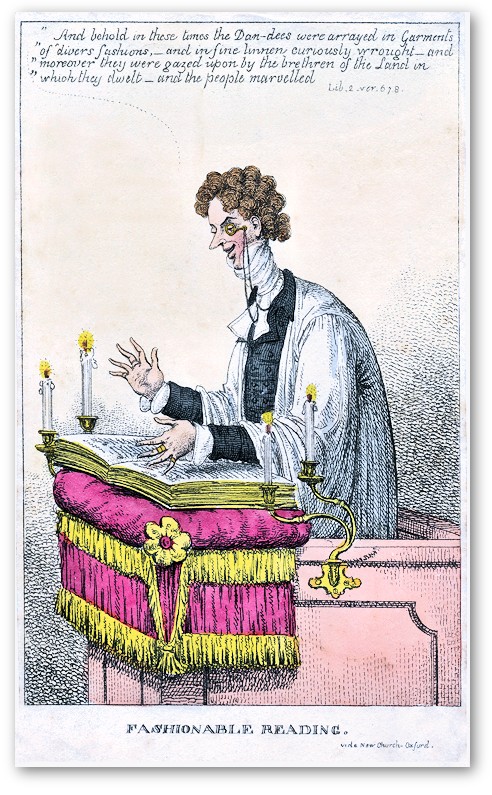 The Demon of Fashion
Fashionable Reading. vide New Church - Oxford
Hand coloured satirical print, circa 1818
114 x 190mm (4½ x 7½in)
Mercy! Is this a Regency dandy at the pulpit? Is the attractiveness of his carefully groomed appearance a powerful spiritual statement?
Complemented by the Holy Trinity of gold rings on his fingers, a monocle clenched in his left eye and the precious high collar, this sartorial saviour required an audience to admire his sweet appearance and what better gathering than a worshipful congregation.
The parson's long elegant fingers hover over a large volume of sacred writings resting on a plush red cushion trimmed with gold fringe. Flickering candlelight glimmers across its gold-edged pages and shines upon the holy words creating a sense of theatre as he addresses his flock on the Christian virtues of benevolence and charity.
Finally in typical flamboyant style he finishes the sermon with these words: "And behold in these times the Dan-dees were arrayed in Garments of divers fashions, - and in fine linnen [sic] curiously wrought - and moreover they were gazed upon by brethren of the Land in which they dwelt - and the people marvelled"