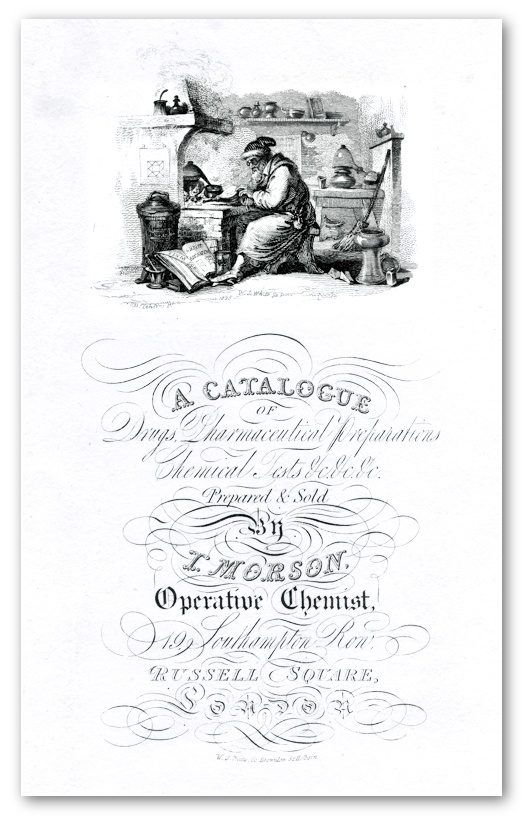 Catalogue Title Page
A Catalogue of Drugs, Pharmaceutical Preparations Chemical Tests &c. &c. &c.
Prepared & Sold by T. Morson, Operative Chemist
19 Southampton Row, Russell Square, London
Engraved by W. J. White, Sc. Brownlow St. Holborn
1825
125 x 220mm (5 x 8½in)
Elaborate engraved page printed in black and executed in a copperplate script in the style of 18th century writing masters. It shows an engraving by William Johnstone White, after David Teniers the Younger, of an alchemist in his workshop seated hunched over a small bellows in front of a furnace.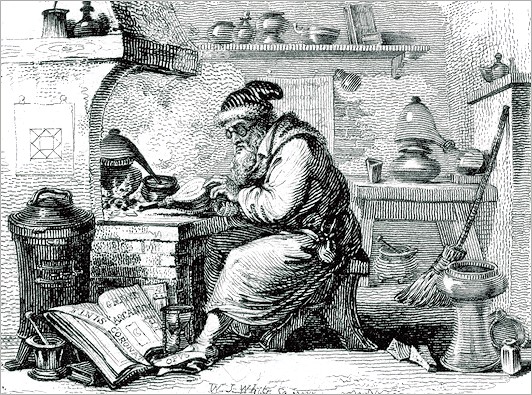 Engrossed in his experiment the bespectacled elderly man is surrounded by glass jars, flasks and other vessels. A pestle and mortar sits on the floor next to an ancient book lying open at a page inscribed "Grand Arcanum" - the great secret of nature that the alchemists sought to discover.
Alchemy is considered the forerunner of modern chemistry and by way of its empirical practices was responsible, amongst other things, for discovering the bright pigments associated with medieval manuscripts.