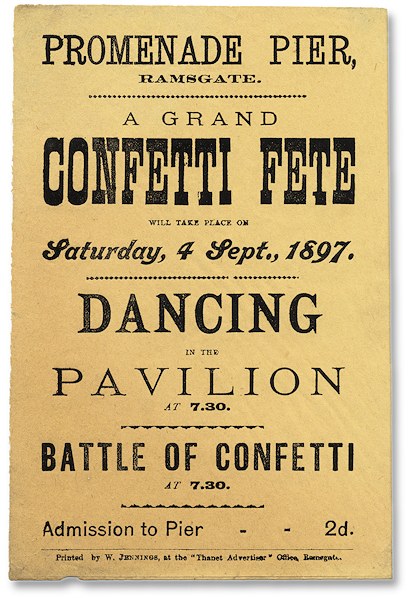 Confetti Fete
Handbill for Confetti Fete
Promenade Pier, Ramsgate
121 x 190mm (4¾ x 7½in)
Saturday 4 September 1897
Printed by W Jennings, at the "Thanet Advertiser" Office, Ramsgate
The 200th anniversary of Britain's oldest seaside pier is being celebrated this year, designed by John Kent, the 1,740 foot Ryde pier opened on July 26 1814.
The Promenade Pier at the seaside town of Ramsgate opened in 1881. A favourite resort for visitors the attractions at the 550 foot pier included a switchback railway, camera obscura, joy-wheel, angling and a 250-seat pavilion on the pier-head.
Within two years the business was suffering financial problems, it still owed money to the contractors who had built the pier, and was ordered to be wound up. In 1884 the pier which had cost £15,000 to build was bought at auction for a mere £250. Alas, for this Victorian treasure more troubles were to follow: storm damage, boat collision and a WWI mine explosion caused severe damage to the structure and in 1930, what was once a fine and proud edifice was demolished and turned into scrap metal.
All that remains are handbills like this to recall a time of merry-making and pleasure on those balmy September evenings on the pier, by the sea, where young and old, dancing with bags of coloured paper, throwing confetti in every direction, enlivened the night with their laughter.