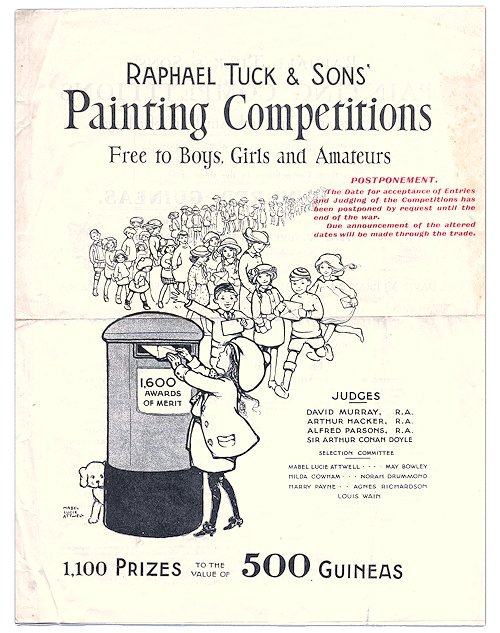 Painting Competitions
Raphael Tuck & Sons
Four page leaflet
Promoting "Father Tuck's" Painting Book Competitions for 1914
Illustrated by Mabel Lucie Attwell
216 x 279mm (8½ x 11in)
Raphael Tuck & Sons' painting competitions for boys and girls and amateurs of all ages, with a view to encouraging the love of drawing and colouring, is for the best copies in water colours of any coloured page in Tuck's Patent Paint Box Painting Books, Tuck's Painting Books or Tuck's Painting Albums. The competitor's copy to be made on the page of outlines which will be found opposite each coloured picture in all Tuck's Painting Books and Painting Albums.
Amongst the judges were to be three Royal Academicians and Sir Arthur Conan Doyle, a director of Raphael Tuck & Sons Ltd. The selection committee was comprised of seven well-known artists and illustrators of the period: Mabel Lucie Attwell, May Bowley, Hilda Cowham, Norah Drummond, Agnes Richardson, Harry Payne and Louis Wain.
However, despite the obvious excitement of the boys and girls rushing to post their entries, overprinted in red is a Postponement Notice announcing:
The date of acceptance of Entries and Judging of the Competitions has been postponed by request until the end of the war. Due annoucemnet of the altered dates will be made through the trade.
This simple matter-of-fact statement belies the horror and suffering that millions would endure in the conflict to follow. Britain had declared war on Germany in August 1914. World War One had begun and would continue remorselessly over the next few years.