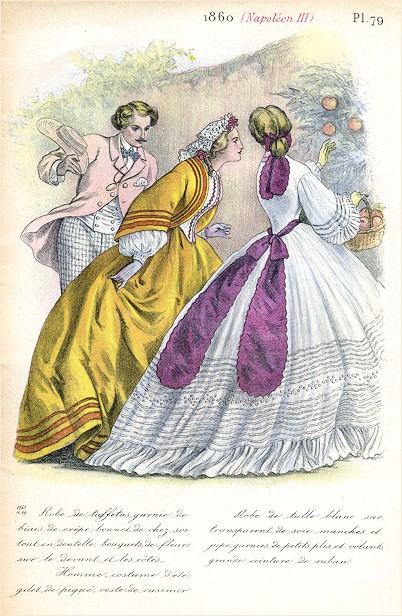 French Fashion Prints
French Fashions 1860
Print from La Mode: Pendant Quarante ans de 1830 à 1870
Publication des Grands Magasins du Louvre
184 x 275mm (7¼ x 10¾in)
French fashion prints from the 19th century are still moderately priced and offer a wealth of treasure for the collector. Through these delightful sheets of printed paper, toned yellow with age, with their fascinating illustrations as colourful now as on their day of printing over one hundred years or so ago we acquire the very essence of how the gentry and nobility displayed affluence through costume.
It is not only for their decorative qualities that make these little gems so desirable. We see the people at home, in their dressing-rooms, with their children, at the races, promenading in the grand gardens, at the opera or ball, inside and out all depicted with great accuracy, charm and grace.
Even a moderate collection of this subject will hold undoubted interest to many besides actual collectors.