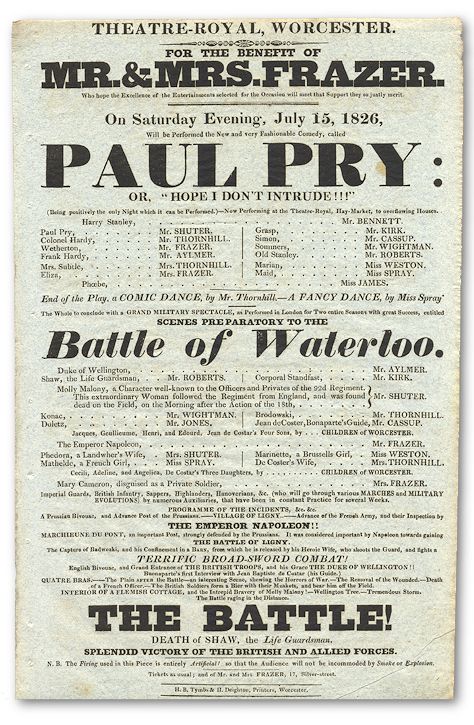 1826 Playbill
Playbill for Theatre Royal, Worcester
197 x 305mm (7¾ x 12in)
Saturday July 15 1826
H B Tymbs & H Deighton, Printers, Worcester
"For the benefit of Mr & Mrs Frazer who hope the excellence of the entertainments selected for the occasion will meet that support they so justly merit. On Saturday evening, July 15, 1826, wiil be performed the new and very fashionable comedy, called Paul Pry: or, "Hope I Don't Intrude!!!" (being positively the only night which it can be performed.) - Now performing at the Theatre-Royal, Hay-Market, to overflowing houses".
[Cast list for Paul Pry follows]
"End of the play, a comic dance, by Mr Thornhill. - A fancy dance by Miss Spray. The whole to conclude with a grand military spectacle, as performed in London for two entire seasons with great success, entitled Scenes Preparatory to the Battle of Waterloo".
In the cast list Mr Shuter takes the part of Molly Malony, "a character well known to the Officers and Privates of the 92nd Regiment. This extraordinary woman followed the Regiment from England, and was found dead on the field, on the morning after the action of the 18th."
As the melodrama gathers pace the performance concludes with "The Battle, Death of Shaw, the Life Guardsman" and the "Splendid Victory of the British and Allied forces". The spectators are assured "The Firing used in this piece is entirely Artificial! so that the audience will not be incommoded by Smoke or Explosion".