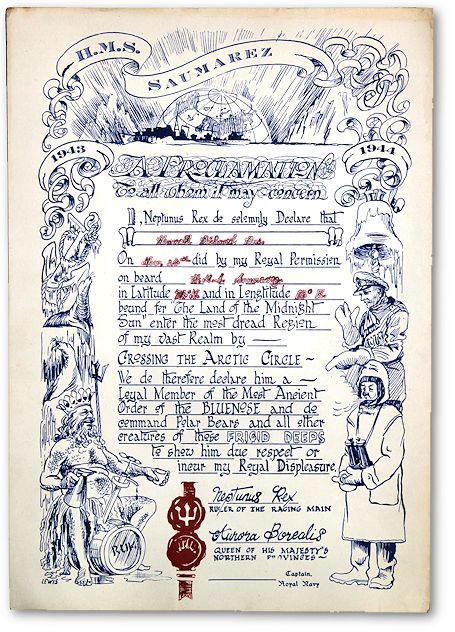 Order of the Blue Nose
"Order of the Blue Nose" certificate
241 x 343mm (9½ x 13½in)
1943/1944
Awarded to sailors to mark their first crossing of the Arctic Circle.
This certificate was issued to crewmen aboard HMS Saumarez, an S class destroyer of the Royal Navy, deployed to escort merchant shipping through the hazardous Arctic waters.
August 2011 marked the 70th anniversary of the first Arctic convoys to Russia. This gruelling campaign, which was to last until the end of the Second World War, required remarkable endurance on the part of the men involved. The human and material costs incurred in running the convoys through to their destination were high.
By May 1945, the perils of the Arctic route had claimed 104 merchant and 16 military vessels, and claimed the lives of thousands of Allied seamen. Source: National Maritime Museum