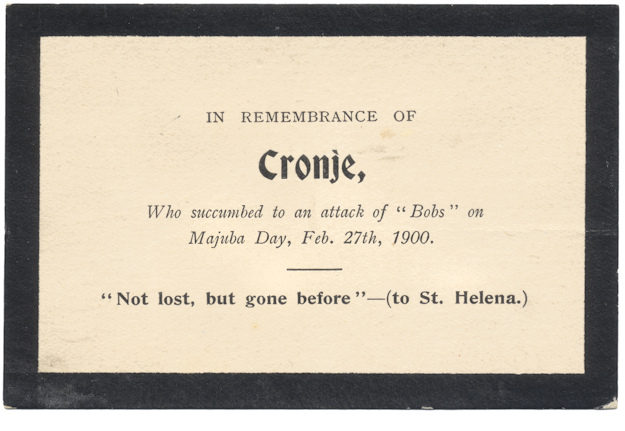 Piet Cronjé
Mock mourning card
76 x 108mm (3 x 4¼in)
1900
This item of mourning ephemera is a mock mourning card relating to the Second Anglo-Boer War.
Piet Cronjé was a general of the South African military forces during the Anglo-Boer wars of 1880-1881 and 1899-1902. He was defeated in February 1900 at the Battle of Paardeberg on Majuba Day and surrendered to Lord Roberts of the British Army. Cronjé became a prisoner of war confined on the island of St Helena until 1902.
Majuba Day was a major annual national celebration in the South African Republic in the period between the First and Second Boer Wars. The day was named after the Battle of Majuba Hill where on 27 February 1881 the culminating battle of the First Boer War proved to be a resounding victory for the Boers.
Cronjé who succumbed to an attack of the "Bobs" humourously refers to Lord Robert being the cause of his demise.