I shant be long, mother's using Sunlight
Sunlight Soap advertising inset
108 x 152mm (4¼ x 6in)
Circa 1900
The Advertising Inset
This popular turn-of-the-century ephemera, was a colourful single-sheet leaflet bound in magazines of the period that were unable to print colour in their own pages.
The promoting and selling of soaps and cleaning products in the late 19th century was a boom industry. Among the most prolific users of the inset was Lever Brothers the celebrated manufacturer of Sunlight Soap, founded by William Hesketh Lever (1851-1925).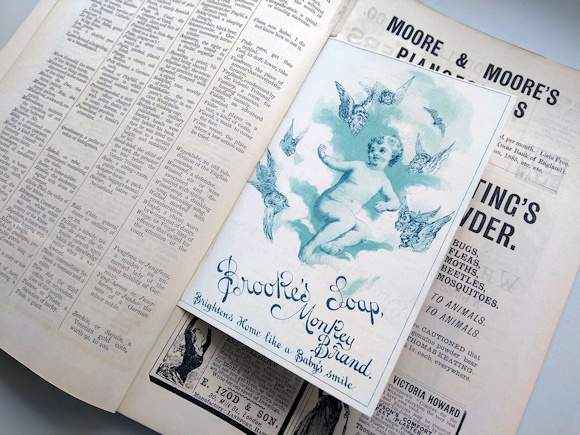 Picture above shows an advertising inset for Brooke's Monkey Brand Soap inserted into an 1892 publication. A few years later this brand was acquired by Lever Brothers and the strapline "Won't Wash Clothes" featured prominently to indicate it was an abrasive cleaner meant for use on such items as copper, tin, brass, pot and pans and the like.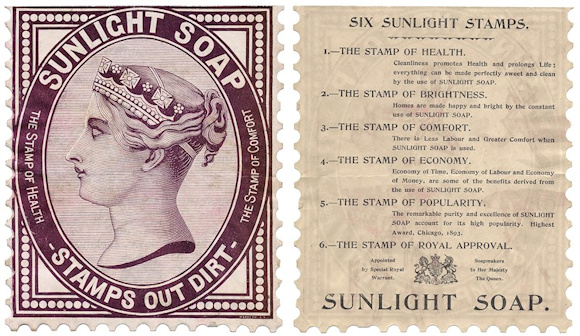 A striking novelty was Sunlight Soap Stamps Out Dirt designed in the mid-1890s complete with outsize perforations it measured 127 x 152mm (5 x 6in). Based on the actual Victorian stamp issued in 1881, Victoria's portrait is by the acclaimed engraver William Wyon and is said to have derived from his design for a medal commemorating the queen's visit to the City of London in November 1837.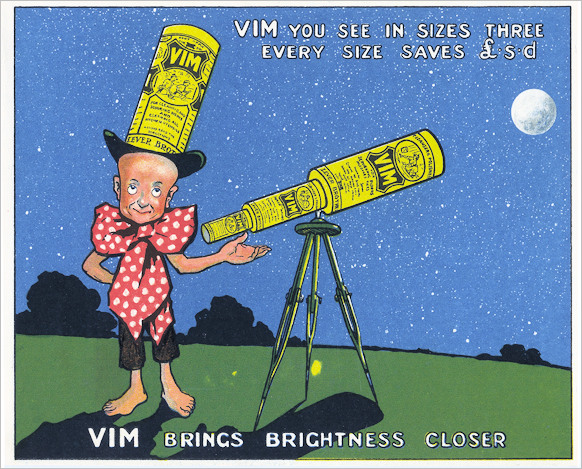 A whole range of other household products were part of the Lever Brothers empire which embraced such brands as Vim, Hudson's Soap, Swan Soap, Lifebuoy, and Vinolia.
Great use of the inset was made by the emerging giants of the mass market. As the medium developed designs became increasingly eye-catching and the leaders in the field began to enlist artists of some distinction.
Abridged from The Ephemerist No 62 September 1988, pp.260-261.
Also see Item of the Month for January 2009; order for one million insets from Lever Brothers.