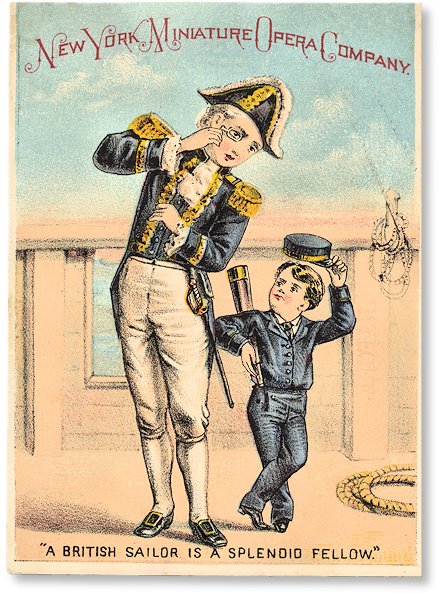 The Children's Pinafore
Advertising card for the performance of H.M.S. Pinafore
The original New York Miniature Opera Company
"The handsomest, youngest and best juvenile troupe in the world"
circa 1880
89 x 121mm (3½ x 4¾in)
The comic opera H.M.S. Pinafore by William S. Gilbert and Arthur Sullivan had delighted audiences in London's theatreland since 1878.
Across the Atlantic, in the United States in 1878 and 1879, among numerous unauthorised versions of H.M.S. Pinafore being produced were a number of juvenile performances, the first being staged in May 1879. The outstanding popularity of this type of children's theatrical entertainment was playing to full houses in North America and this did not go unnoticed in Victorian London.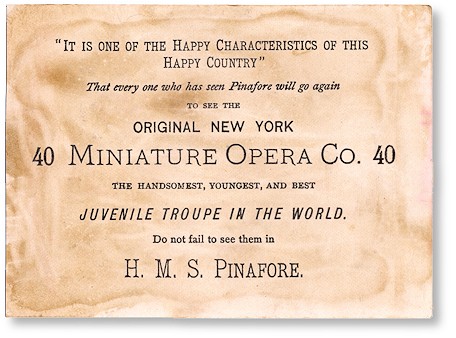 In December 1879 an all-child production of the musical comedy was launched in London at the Opera Comique, it was blessed with extraordinary success, winning critical acclaim from both the press and audiences alike, continuing with a national tour of British towns and cities during 1880-81.
Source: https://novaojs.newcastle.edu.au/ojs/index.php/pes/article/view/91
University of Newcastle, Australia 2012.
The 'D'Oyly Carte pantomimes': complementarity and innovation by Gillian Arrighi