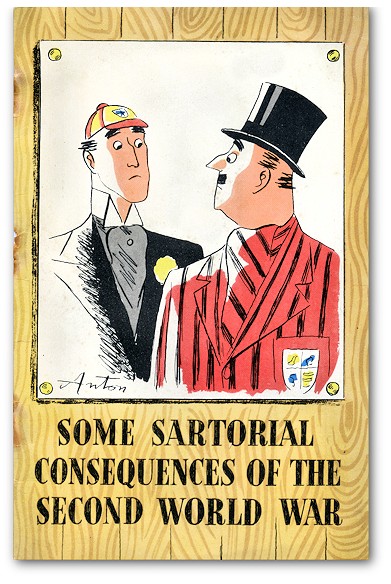 Moss Bros & Co
Advertising for Moss Bros of Covent Garden - The Complete Man's Store
Metamorphoses picture book - movable changing pictures
133 x 210mm (5¼ x 8¼in)
circa 1948
Designed by T B Browne Ltd, London EC4
Some Sartorial Consequences of the Second World War, published by Moss Bros & Co Ltd, is a small booklet containing twelve colour plates.
Each plate is divided into three horizontal sections, corresponding to the heads, bodies and feet of twelve different men's outfits giving the reader "a surprisingly large number of sartorial permutations".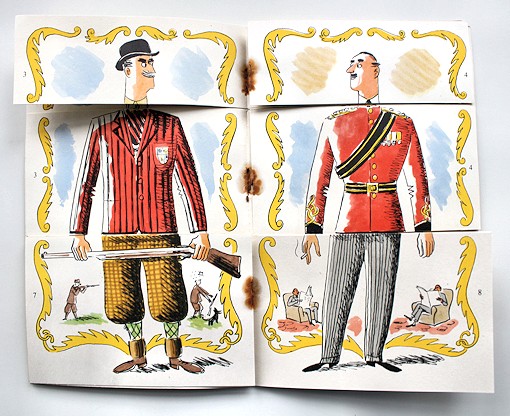 This light-hearted publication, written by Hugo Backgammon and illustrated by Anton, humorously describes how the "two gallant figures" on the cover are "victims of the recent hostilities" where on returning to Blighty they find their wardrobes destroyed, one by a well-directed bomb and the other by an invasion of moths - "hardly a suit remained that did not seem to have been peppered by a twelve-bore".
Despite the end of the war rationing remained for many years. How was one to remain elegant and stylish in a climate of such severe shortages?
The writer bemoans the fact that "All over the country strong men are weeping at the final dissolution of some cherished garment they think is irreplaceable", but soon "...…a glorious day will come when they will have only to turn their steps to Covent Garden to equip themselves amply from head to toe; and for the thought of this alone it is worth holding on to life."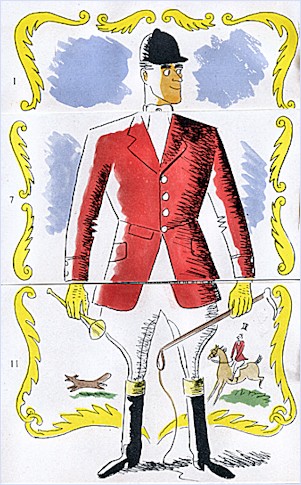 The final page provides the key to the twelve correct combinations.
The outfits are;
Hunting Kit,
Military Service Dress,
Riding Kit,
Lounge Suit,
Chaffeur's Livery,
Winter Sports Kit,
Sports Wear,
Naval Service Dress,
Morning Wear,
Butler's Livery,
Shooting Suit
and Tropical Kit.
The hunting kit has the head of Section 1, the body of Section 7 and the feet of Section 11.