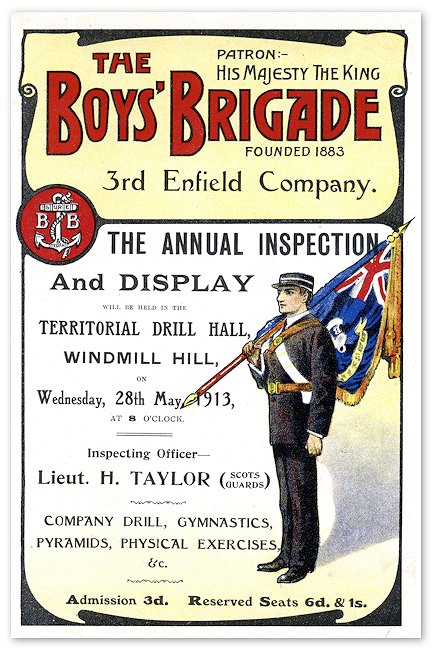 Boys'Brigade
Leaflet for The Annual Inspection and Display
3rd Enfield Company
28 May 1913
140 x 218mm (5½ x 8½in)
The first Boys' Brigade company was founded in Glasgow on
4 October 1883 by William Alexander Smith. In the years following others were rapidly formed throughout Scotland and the rest of the United Kingdom leading to a movement comprising thousands of boys.
In the early 20th century there were about 2,200 companies connected with different churches throughout the United Kingdom, the British Empire, and the United States, with 10,000 officers and 160,000 boys. The Boys' Brigade has grown in to a world wide movement working with millions of children and young people for well over a century.
Within a year of their Annual Inspection and Display the 3rd Enfield Company would be attending the memorial service of Sir William Alexander Smith who died on Sunday May 10, 1914 in St. Bartholomew's Hospital, London. After the service, held in St Paul's Cathedral, eight Staff Sergeants carried the coffin of Sir William from the chapel of St. Bartholomew's Hospital while the Guard of Honour of the 62nd London and 3rd Enfield stood with arms reversed. The Band of the 103rd London Company began to play Abide With Me as the cortege stepped slowly into the night.
World War I broke on the Western world on 4 August 1914, and all over the country Officers of The Boys' Brigade, many of whom were already in the Reserves or Territorials, went off to their military or naval units. Some 400,000 Old Boys and Officers served in World War I, and among them eleven were awarded the Victoria Cross for the highest gallantry.
Reference: First for Boys written by Donald M. McFarlan