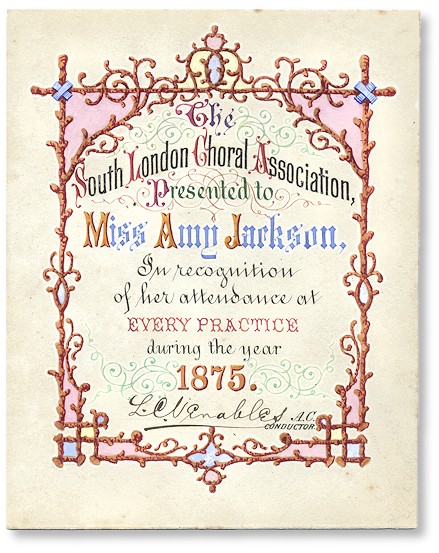 South London Choral Association
Award presented to Miss Amy Jackson in recognition of her attendance
at every practice during the year 1875
Signed by L C Venables A.C. Conductor
121 x 152mm (4¾ x 6in)
Leonard Charles Venables (1847-1928) was a graduate and professor of Tonic Sol-fa College. He was chosen as conductor of the South London Choral Association from its formation in 1869 and remained so for 21 years, raising it from small beginnings to an important position among metropolitan organisations, its concerts being of high excellence.
From his book Choral and orchestral societies: a book of hints on their organisation, and business and musical management he comments on the importance of rehearsals:
Too much attention cannot be given to making rehearsals attractive. The permanent success of a society depends more on this than on the style or expense of its concerts. Many members much prefer rehearsals to performances, and such are the backbone of a society, for they will stick to it when the "butterfly" members, who care only for display before an audience, have grown tired, and have flown to some fresh amusement."
The commendation given to Amy Jackson is an accomplished piece of decorative art embellished entirely by hand, and penned by a skilled calligrapher. To reward and motivate choir members to attend rehearsals was its objective, a tangible appreciation of their diligence and endeavour.