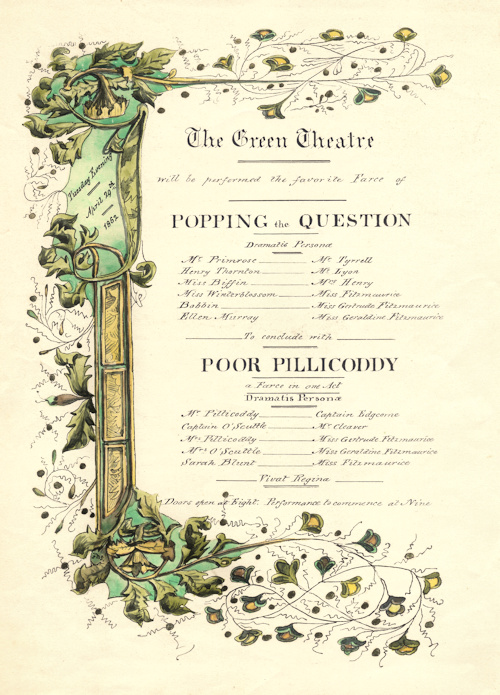 Amateur Theatricals
The enchanting allure of 19th century private theatricals! Picture a time when families found joy in the simplicity of parlour games, needlework, playing piano and poetry readings.
Yet, amidst the cosy rituals of the era, there emerged a thrilling pastime: the art of staging plays. Imagine the excitement that must have filled the air as families and friends came together to transform their drawing rooms into miniature theatres, as a break from the monotony of daily life.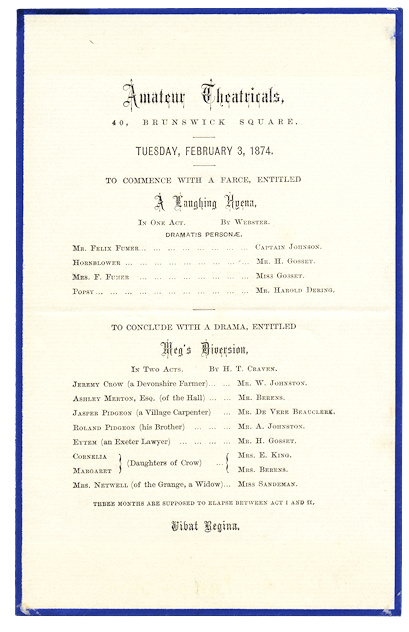 Amateur theatricals were a popular and culturally significant form of entertainment during the 1900s in Britain.
These dramatic performances, typically organised by members of the Victorian upper and middle classes, took place in private homes and were characterised by their exclusivity, elaborate preparations, and strict adherence to the social norms and values of the era.
They were a reflection of the emphasis on social refinement and propriety and provided an opportunity for the Victorian elite to showcase their talents and social status within the confines of their own drawing rooms.
These performances were often organised for select groups of friends and family, and invitations were highly sought after.
The preparation for amateur theatricals was a meticulous process that involved months of planning and rehearsal. Participants would select plays or dramatic pieces that were deemed morally acceptable and in line with the prevailing social norms. This often meant choosing from a limited repertoire of well-established, safe, and often comedic plays. The actors, who were typically amateur performers drawn from the host's social circle, would engage in rigorous rehearsals, practicing their lines and perfecting their performances.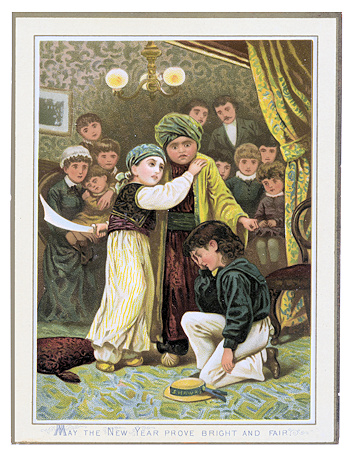 Costumes and set design played a crucial role in enhancing the overall experience for the audience. Elaborate costumes were created to replicate the styles of the period, and makeshift sets and backdrops were constructed within the host's home. These efforts aimed to transport the audience into the world of the play, despite the intimate setting.
The performances themselves were seen as an opportunity for the participants to demonstrate their acting abilities, wit, and cultural refinement. In a world where the professional stage was viewed with suspicion, these homegrown performances offered a delightful and acceptable alternative.
These intimate gatherings offered a chance for the Victorians to temporarily escape the constraints of their daily lives, immersing themselves in the world of theatre within the comfort of their own homes.
From Top
The Green Theatre
Tuesday Evening 29 April 1862
Charming home made programme, skillfully designed and executed.
Elegantly finished with hand lettered performance and cast details.
222 x 286mm (8¾ x 11¼in)
Amateur Theatricals
Tuesday 3 February 1874
To commence with a farce and conclude with a drama.
114 x 178mm (4½ x 7in)
Victorian New Year greetings card
Circa 1880s
Dramatic tension holds the audience spellbound as the performance unfolds.
102 x 140mm (4 x 5½in)