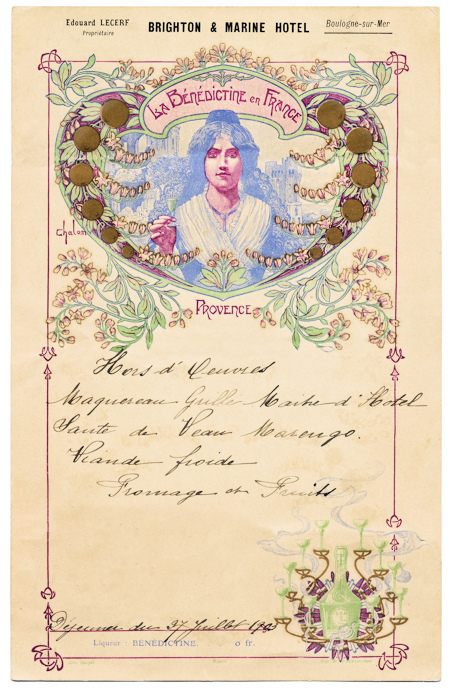 La Bénédictine en France
Lunch menu for Brighton & Marine Hotel, Boulogne-sur-Mer, France
27 July 1903
Illustrated by Louis Chalon (1866 - 1940)
165 x 267mm (6½ x 10½in)
Published by Imp de Bénédictine
Bénédictine is a herbal liqueur originating from the Abbey of Fécamp, a Benedictine abbey, on the Normandy coast in northern France. In the 16th century monks were considered among the most well educated and knowledgeable of people, they devoted their lives to meditation and prayer and performed important tasks within the community.
With their knowledge and devoted investigations the Benedictine monks from the Abbey of Fécamp were able to formulate a strong, alcoholic drink flavoured with local flowers, herbs, berries and roots - a premier elixir that had medicinal qualities. Uninterrupted production of the drink continued for almost three hundred years when during the major social upheaval of the French Revolution the secret recipe went missing.
It wasn't until the mid 19th century that the long lost recipe was re-discovered by Alexandre Le Grand, a wine merchant, who was responsible for tirelessly adapting the original recipe for a contemporary palate. Over generations Le Grand's family had acquired power and prestige in the wine and spirit trade and combined with skilful marketing strategies, a world class brand was about to be born.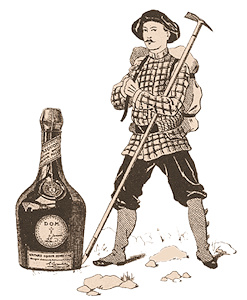 The 20th century saw this herbal liqueur, with its distinctive bottle shape, share a surprising connection with Burnley, a small town in Lancashire based in the North West of England. Dating from the First World War members of the local working men's clubs acquired a taste for the French beverage.
At first glance this seems of little significance, yet it was not long before Burnley, the traditional centre of the former cotton industry, became one of the largest importers of Bénédictine in Europe, and its enduring appeal continues to garner a devout following to this day.