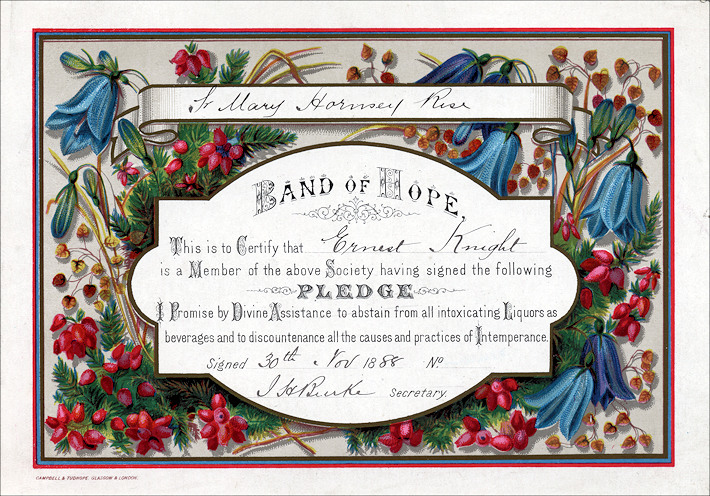 Temperance Movement
Band of Hope, Saint Mary, Hornsey Rise
Pledge card for Ernest Knight
30 November 1888
Published by Campbell & Tudhope, Glasgow & London
142 x 197mm (5½ x 7¾in)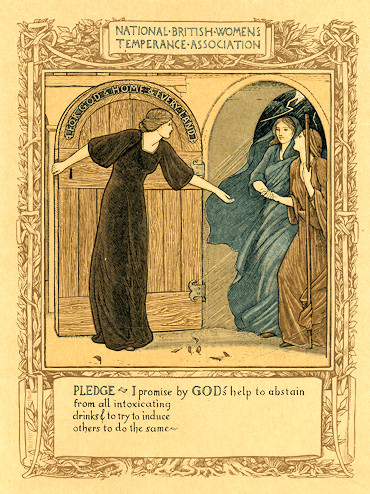 The temperance movement in Britain was a popular social movement that aimed to reduce or abolish the consumption of alcoholic beverages. The movement was initially motivated by religious concerns, with many temperance advocates believing that alcohol consumption was a sin.
In the 18th century, the movement gained momentum, as more people became concerned about the social and economic problems associated with alcohol abuse.
The movement reached its peak in the 19th century. This was due in part to the Industrial Revolution, which led to an increase in poverty and social problems, which many temperance advocates blamed on alcohol.
During this period, a number of temperance organisations were founded, including the establishment of temperance societies whose aim was to persuade drinkers to join their life of total abstinence.
The temperance movement provided an avenue for women to actively participate in social reform efforts. Alcohol abuse often resulted in the neglect and mistreatment of women and children. By joining the temperance movement and advocating for abstinence, women found a platform to address gender inequalities and fight for their rights.
Signing the pledge for abstinence from alcohol in the 19th century was considered important because it represented a commitment to personal and spiritual improvement, addressing social problems, promoting moral values, and striving for healthier communities.