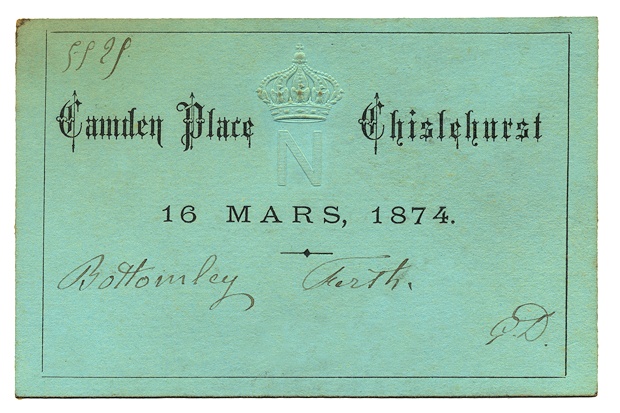 Louis Napoleon III
Pasted in a Victorian album this unassuming small card with little decoration or artistic elaboration bears a crown above the capital letter N, indicating the imperial insignia of Napoleon III.
It represents a tangible record of an historic event that embroiled the governments of Britain and France in uncomfortable diplomatic exchanges during the early 1870s. The incident that sparked the conflict was the French imperial family receiving sanctuary in Britain after the Second Empire, ruled by Emperor Louis Napoleon III, was defeated in the Franco-Prussian War.
The exiled Emperor arrived at Camden Place in 1871, a splendid house in the style of a French chateau, near the leafy village of Chislehurst in Kent. He joined his wife the Empress Eugenie and their son the Prince Imperial who had arrived there the year before.
Less than two years after his arrival the former French ruler died on 9 January 1873. The Empress Eugenie continued living at Camden Place until 1881 when she left to live at Farnborough Hill House, an imposing property in Farnborough, which was to be her English home until her death in 1920.
Measuring 89 x 57mm (3½ x 2&frac14in) the admittance card is from the period after Louis Napoleonís death and issued to "Bottomley Firth" for 16 March 1874 (Joseph Firth Bottomley [1842-1889], politician and municipal reformer).