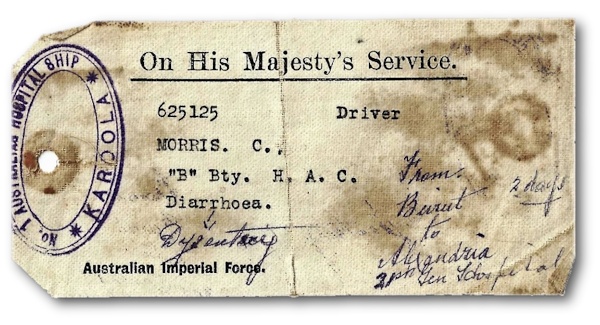 A Toe-Tag Speaks
By John G Sayers
When I first saw this tiny document at the Covent Garden antiques market in London, I thought that it was a luggage tag to add to my collection. Right size. Right format. Then I read it. It was apparently a 'toe tag' attached to an injured or - deceased - person
It was stamped as from the Australian Hospital Ship Karoola. She reportedly served in that capacity during the First War from 1915. It was for a poor soul, C. Morris, a Driver with B Battery of the H.A.C. (presumably Honorable Artillery Company). He was originally invalided with Diarrhoea when the tag was typed, but that apparently deteriorated into Dysentery during his trip from Beirut to Alexandria of 2 days' duration (the prognosis was written in the same hand as the one that recorded his trip). There is a further notation that I believe reads 21st General Hospital.
So, did Mr. Morris survive his affliction and the war itself? As a member of the Australian Imperial Force did he return to Australia, or end up in England? Did he meet a sweet British nurse, fall in love with her, and settle down in England with her after the war? We will probably never know, but it would make a charming romantic story.
And the biggest question of all...I have never seen one before in my 40+ years of collecting shipping ephemera, so, where has this toe tag been hidden during the past 100 or so years?