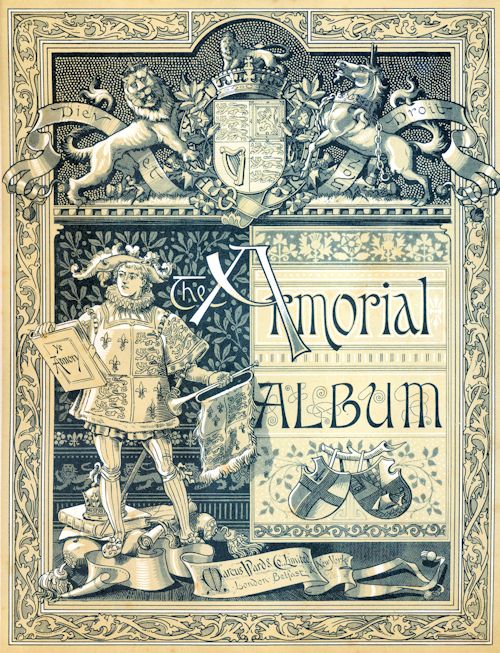 The Armorial Album
Title page for The Armorial Album
For inserting or emblazoning of coats of arms, crests, monograms and devices

with pages for photographs, autographs, illuminating etc.
Designed by John Vinycomb FRSA Ire
Published by Marcus Ward & Co Limited, Oriel House, Farringdon Street, London,
Royal Ulster Works, Belfast and New York
235 x 299mm (9¼ x 11¾in)
circa 1890s
Crest albums were produced to display collections of arms, crests and monograms cut from stationery items such as letterheads, notepaper and envelope flaps. Crest collecting was a popular pastime enjoyed by the middle and upper classes of Victorian Britain.
Its enduring appeal to the 19th century collector perhaps originates in the pre-eminence in the field of items gathered from the correspondence of wealthy and prestigious individuals, military and other organisations which contributed an attractive and exciting quality when the contents of the album was discussed with guests in the drawing room as part of the evening's entertainments.
The cover of The Armorial Album is richly gilded and heavily embossed. Each page consists of a gilt-edged board printed one side only with an elaborate decorative design allowing the crests to be pasted in the spaces provided.