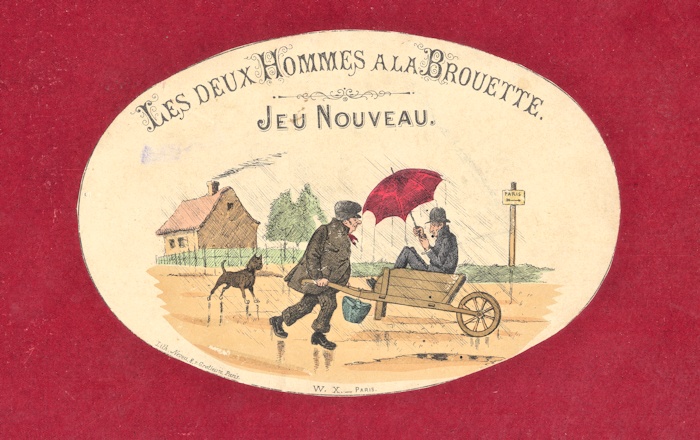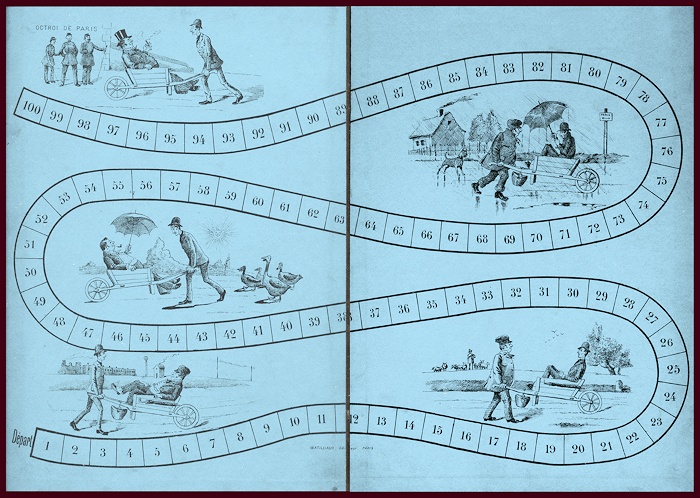 French Board Game
Les Deux Hommes a la Brouette
Dice board game for two players
Board open 438 x 318mm (17¼ x 12½in)
Publisher: Charles Watilliaux, Paris. Circa 1900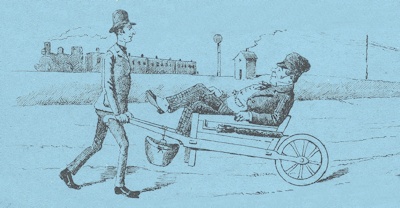 This board game, translated as "The two men with the wheelbarrow", is based on an apocryphal tale of two amiable companions who dreamed up the eccentric idea, at the time of the Universal Exhibition, of travelling to Paris with a wheelbarrow.
The two friends agreed that each would alternately push the wheelbarrow and devised a set of rules to be followed throughout the journey. For instance, whoever was in the wheelbarrow could stay there for as long as he wanted, although the number of kilometers to be covered in this way without getting out of the wheelbarrow could not exceed 10.
Furthermore, they bet each other that they would be the one to enter Paris in the wheelbarrow without his companion being able to prevent him, as long as they followed the rules they had put together.
The board game is meant to simulate the wheelbarrow journey, the 100 squares numbered from 1 to 100 represent the milestones of the road, and a counter represents the wheelbarrow. The player whose turn it is to move the counter forward will be assumed to be in the wheelbarrow, therefore whoever brings the counter into Paris will be deemed to be the winner.
The Exposition Universelle of 1900 was a world's fair held in Paris from April to November of that year. Some 50 million visitors were attracted to the event situated along the Left and Right Banks of the Seine.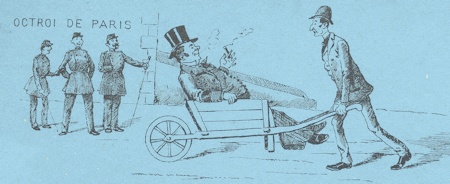 Charles Auguste Watilliaux (1847 - 1924) whose production is marked with the initials "WX Paris" was one of the most important French board game publishers.