Water Circus
Raphael Tuck & Sons London, Paris, New York
Six section colourful and embossed die-cut fold-out panorama No 986, circa 1890s
Each section measures 121 x 76mm (4¾ x 3in) · 711mm (28in) fully extended
Designed in England, printed in Germany
Welcome to the superb and wonderfully hilarious world of the Water Circus! In this offering from fine art publishers Raphael Tuck and Sons we are presented with six illustrations of a circus arena flooded with water and transformed into a large pond complete with wooden bridges, trees, boats, ducks and trees.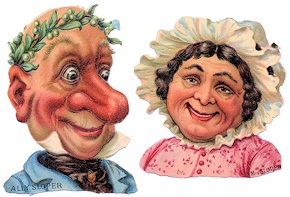 No one is safe from the amusing, crazy antics of anarchic clowns and comic policemen diving and falling off the bridges startling the ducks, upturning boats and dumping rowers in the water.
Even the audacious Victorian comic character Ally Sloper along with his wife manages to put in an appearance in the final three sections.
What an outlandish comic fantasy! Or was it? Apparently not, for in Victorian London in December 1890 Hengler's circus presented their wonderful water novelty called Hengler's Great Real Water Spectacle; "An Entirely New and Original Grotesque Pantomime", when "23,000 gallons of real water poured into the arena in the incredibly short time of 35 seconds."
The final scene of Hengler's water pantomime contains two bridges and a policeman in pursuit of a man diving into the water into which an old lady has already fallen alarming rowers in boats, ducks and a giant frog!