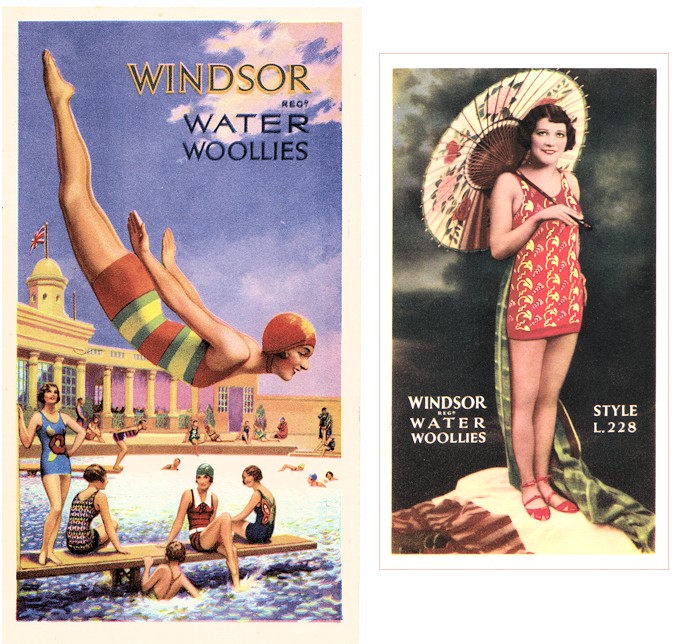 1930 Bathing Season
Windsor Water Woollies
B. Windsor & Sons Limited, Castle Works, Poulton-Le-Fylde, Blackpool
Six page fold-out advertising leaflet
96 x 165mm (3¾ x 6½in)
The 1930s embraced a new mood of optimism and excitement in women's bathing suit fashion. Different styles and delightful colourings all blended together in perfect harmony to liberate the female swimmer and provide the opportunity to express her individuality through swimming suits and beach wear.
In Britainís seaside towns the open-air swimming pool or lido had established its popularity in the previous decade and continued to flourish into the thirties as swimming, now regarded as a leisure activity, was seen as a fashionable and healthy pastime.
The front cover shows a female diver, about to make a splash, looking very chic in an elegant suit with a glorious three-colour effect in broad stripings of maroon, gold and moss. In the background the many pillars of the colonnade are reminescent of the Renaissance classical style of architecture used for Blackpool lido opened in 1923.
The leaflet presents but a few of the designs of Windsor Water Woollies and promises the prospective customer that "There is no size too large or too small. They are made to fit the slimmest figures, and even the most robust can wear Windsor Water Woolies with dignity. The world's perfect bathing suit and 100% British".

Size chart in the leaflet is solely based on weight