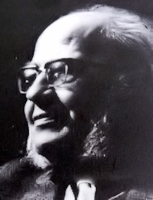 George Buday
Buday's world encompassed more than the Christmas card. He was an art historian, wood engraver, student of folklore and popular ballads, and explorer in the byways of the human condition.
The Ephemerist, No 72, March 1991
Hungarian born George Buday (1907-1990) is best known to ephemerists as the author of The History of the Christmas Card first published in 1954 and still regarded as the undisputed work of reference on these humble items of printed ephemera.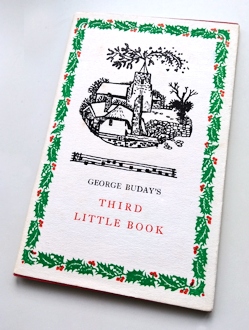 He won a travelling scholarship to Britain in 1937 where he lived for the remainder of his life and by the outbreak of the Second World War was working in London from Rossetti Studios in Chelsea.
From 1943-1956 he produced a series of "Little Books", printed in a limited edition, which he gifted to "Friends and Acquaintances" around Christmas time, all of them illustrated with beautiful woodcuts by the artist and featuring a different theme.
Meanwhile in Europe the events of November 1956 where the Soviet military brutally crushed The Hungarian Uprising had a profound effect on Buday's mental health.
He voluntarily admitted himself as a patient in Netherne psychiatric hospital, Coulsdon, Surrey, remaining there for the rest of his days. He was provided with his own workshop and studio in the grounds of the hospital so was able to continue with his passions of wood engraving and printing.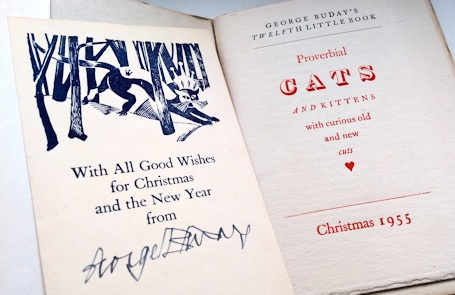 Postscript
Robert Waterhouse's new book Their Safe Haven published by Baquis Press, Manchester reveals a sad commentary on goverment process when Buday's 1950 application for citizenship was rejected because of false MI5 allegations that he had Communist sympathies. It is depressing how often, when reading history, actions by those in authority have been absolutely morally shameless.
To read more on this travesty take a look at this article on the author's website: George Buday: A Patriot Spurned