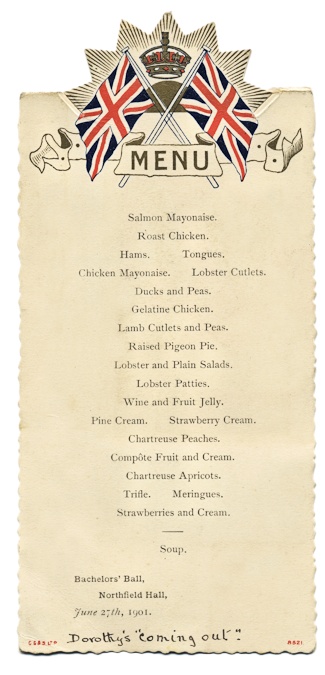 Bachelors' Ball
Menu Card
Northfield Hall
27 June 1901
76 x 172mm (3 x 6¾in)
C G & S Ltd
[Charles Goodall & Son Ltd]
Handwritten annotation reads "Dorothy's 'Coming Out'"
The Bachelors' Ball would have been organised by a committee of gentlemen, affluent unmarried men both young and old, with the prospect of meeting eligible young ladies and their families.
Such social gatherings arranged for the upper and middle classes were approved meeting places for mothers to present their daughters, who had reached marriageable age, into fashionable society.
Known as "coming out" this tradition was intended to facilitate young women, while under the watchful eye of their mothers, to meet potential suitors from respectable families.
The glamour of a ball ensured the evening would be memorable; time flew by far too quickly as the young hopefuls gracefully danced the night away. When the ball was over their dance cards would be kept as a treasured souvenir, just as the menu card had been cherished by Dorothy's mother.