The Patent Journal - 1846
John Sayers
Ephemera Society dealer Roger Knowles always has some interesting things at his stand when I see him at the Ephemera Society's Fairs. The last one was no exception. Among the many ephemera gems that he had on offer were a number of copies of The Patent Journal and Inventors' Magazine.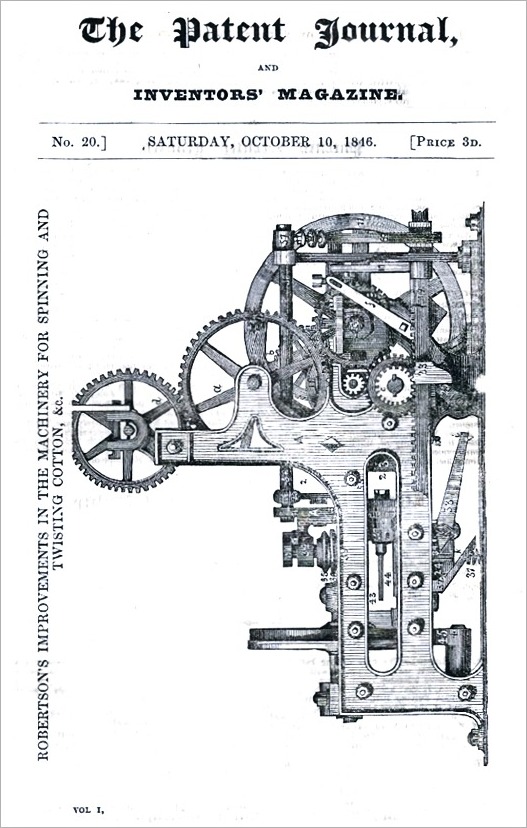 Wait a minute. I have never invented anything and don't have any patents. My main collecting interest is Ocean Liners. So why did I find it interesting and enlightening to the extent that, for £10, I bought one of the issues?
Issue No. 20 of October 10, 1846 featured ROBERTSON'S IMPROVEMENTS IN THE MACHINERY FOR SPINNING AND TWISTING COTTON. The accompanying illustration looks complex and no doubt it was. Three-and-a-half pages of subsequent narrative shed more light onto the details of the innovation.
But Britain was a leader in the production of fabrics and at this stage, some 15 years before the outbreak of the American Civil War, the American South was a regular supplier of raw materials for cotton cloth manufacture. Eli Whitney had invented the Cotton Gin to speed up the process at the origination of the cotton in America, so this invention dealt with the 'downstream' aspects.
We talk of Global Trade as though it was something of recent decades. Not so. This publication reminds us that Global Trade was in operation some 150 years ago. And the Machinery for Spinning and Twisting Cotton was, in its era, possibly just as important in its way as the 5G broadband that is part of the 2020s.
The Journal described other patents, such as one for Improvements in Printing or Staining of Paper, and Improvements in the Manufacture of Iron. It's comforting to think that innovation continues in the current century and despite the world's plights there could be breakthroughs and enhancements around the corner to alleviate them - just like in 1846!
John Sayers is the North American representative on the council of The Ephemera Society.
Copyright © John G Sayers 2020. All Rights Reserved.