Notes from across the pond
John Sayers, Ephemera Society member and keen long-time collector of ocean liner ephemera, shares his experience of a visit to the 2011 Annual Conference of the Ephemera Society of America. The North American Representative on the council of The Ephemera Society, he has just completed the maximum 6-year term on the Board of the American society.
For an American ephemera collector, the Annual Conference of the Ephemera Society of America ("ESA") has to be the highlight of their collecting year. It is certainly well worth the 400-mile drive from our home in Canada to find new material.
Valerie Jackson-Harris, Chairman of The Ephemera Society, represented it well by giving two presentations on the day of seminars, attending both the ESA dinner and the Valentine Collectors dinner, and having a stall during the two days of the following Fair.
For the British collector...well, it depends upon what you collect.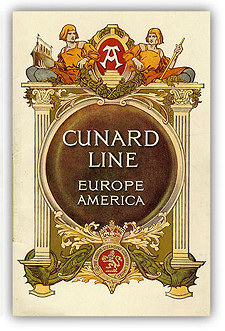 Some, but not all of the material, has an American theme, as would be expected. However, as an example of the diversity, illustrated is a Passenger List from the Cunard liner R.M.S. Aquitania for her voyage from Southampton to New York, sailing on Saturday 14th June, 1919. In fine condition, it's a nice addition to my collection.
But wait! There is a loose insert headed Cunard War Service.
It explains to passengers:
"Demands upon the accommodation on the ships for the purposes of repatriating overseas troops are still very great and the Government are anxious that
nothing should be done to interfere with this movement. For the present, therefore, the Company are prevented from putting their steamers into their actual pre-war condition. As soon as circumstances permit, the ships will be fully restored for regular service."
So this is actually a 'crossover' piece representing both military and civilian service. Aquitania served during the First War at various times as a troopship and as a hospital ship, and in an era when the only way across the Atlantic was by ship, there would have been a backup of business and other civilian passengers to make the crossing at the end of the War. I note that one of the passengers on board was Mr. Herbert Hoover, who became President of the United States nine years later. One can assume that Mr. Hoover did not sleep in a private's hammock, but rather in an officer's quarters!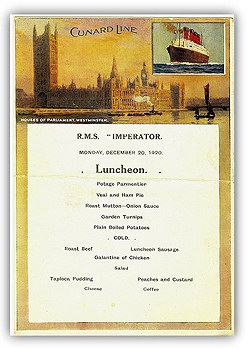 Another Cunard item - an Imperator menu - proved further that there is international-calibre material at the Fair. A Hamburg-America Line ship when she went into service in 1913, and (as part of war reparations) a Cunarder under her original name from February, 1920 to February 1921 when she was renamed Berengaria, her Imperator ephemera is scarce and desirable from both ends of the First War.
Copyright © John G Sayers 2011. All Rights Reserved.