Boys of the Empire
John Sayers
I can't pass by anything that speaks to me over many decades of history. So, at the recent Ephemera Society fair, I HAD to purchase, read, and reflect upon three copies of a single-sheet Victorian publication titled Boys of the Empire.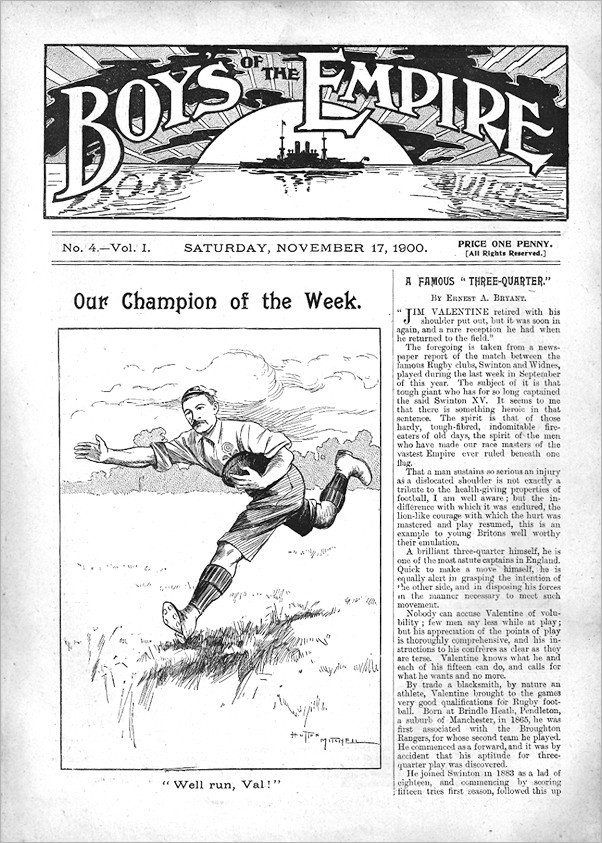 Late Victorian, to clarify. The oldest copy was Volume 1, number 4, dated Saturday November 17, 1900. Queen Victoria's Diamond Jubilee had been three years earlier and she was still on the throne. Ladysmith had been relieved and Britain's hold on South Africa had been secured. Britain's mighty warships ensured that Britannia did indeed rule the waves.
So, it wasn't surprising to see the advent of an organization called the Boys Empire League ("To promote and strengthen a worthy Imperial spirit in British-born Boys"). The League suggested that each school in the land should have a League Secretary, and "every member should make it a matter of proper pride to identify himself openly with the League". Entrance Fee was sixpence, with no further annual fees. Pins were available in bronze, white metal and silver at 6d, 1s and 2s respectively.
The cover page of each issue featured a sports figure, with a picture titled Our Champion of the Week. This issue depicts a rugby player over the caption "Well run, Val". 'Val' was Jim Valentine, 'who retired during a game with his shoulder put out but was soon [bravely] in again' to a 'rare reception'. This reportedly occurred during a match between Swinton and Widnes, with Jim playing for the Swinton XV. One thing that hasn't changed in the intervening hundred-plus years is the idolizing of sports figures and the emphasis on sports.
And looking back, the League and its publication reflect patriotism and colonialism. But by today's standards, we all recognize the darker side of the organization's male-exclusive sexism and discrimination against those not born in Britain that would not play well in society today. Ephemera can't tell us the future, but it can certainly show us where we came from!
John Sayers is the North American representative on the council of The Ephemera Society.
Copyright © John G Sayers 2020. All Rights Reserved.