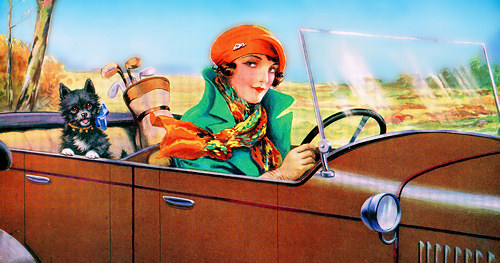 This beautiful illustration captures the excitement and romance of motoring during
the 1920s when car parks were beginning to appear in the towns and cities of Britain
Car Park Tickets
Malcolm Warrington
Individual parking tickets, from sixty years ago and more, are very hard to come by so to acquire this small collection, in such good condition, is a remarkable discovery.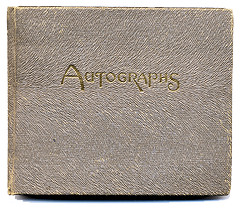 The period covered is from the early 1950s to the early 1960s and, apart from a few loose examples, have been carefully placed into a pocket-sized autograph album, the perfect size to fit into the glove compartment of any motor car.
Most unusually, this motorist, has recorded their travels by collecting and saving car park tickets, along with ferry and toll bridge tickets, from the many places they visited in England, Wales and Scotland.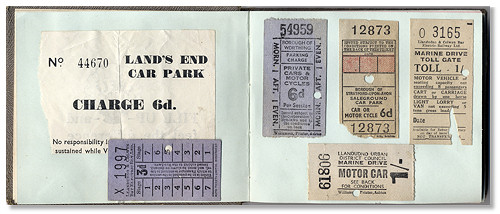 Inevitably thrown away these tickets are rare survivors of a once prolific type of printed ephemera, they serve as a backdrop for a part of motoring history that is little recorded.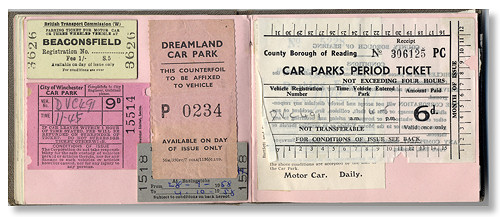 In Britain, after the First World War, the number of private motorists increased enormously with consequent congestion. In the early days local authorities arranged for certain public streets to be used for parking spaces, but with no regulation car owners could leave them as long as they pleased. With increased demand upon the public parking space rules were brought in to limit parking to two hours and a charge made for using these "parks".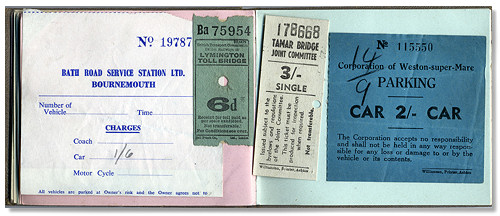 By the early 1930s around 100 people a week were charged with obstruction by motor vehicle in London. Because of this car parks constructed by councils or corporations became a feature of large towns to help relieve over-burdened streets and harassed motorists.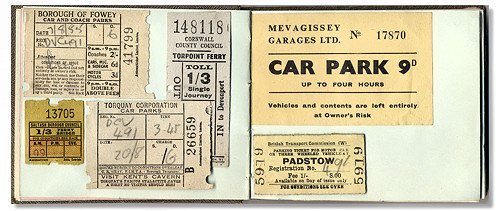 The fee for parking was collected by car-park attendants who issued a numbered ticket, often filled in by hand, recording the date, time and vehicle registration number.
Car park charges from Pavey's Car Park, Jacobs Ladder, Cheddar in Somerset for 1957 lists the following prices:
the sum of Twopence for Bicycle
Sixpence for Motor Cycle
One Shilling for Motor Cycle Combination
One Shilling for Car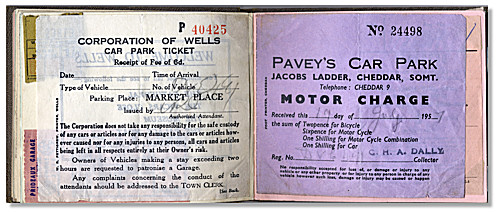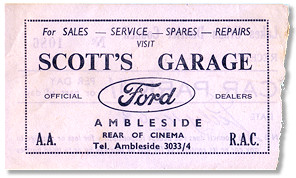 The reverse of the ticket often carries advertisements for local services or more often the obligatory conditions of issue and occasionally, in small text at the edge, the printer's details.
It would be interesting to know if car park tickets from the 1920's have survived the ravages of time, as it's quite likely, early examples of this category of ephemera have gone unrecorded.
Copyright © Malcolm Warrington 2012. All Rights Reserved.