Ephemera and Genealogy
John G. Sayers
I recently gave a talk to a Genealogy Society meeting, and Society members seemed to be astounded by the amount of genealogical material that is available in the field of ephemera. A recent example, the material illustrated, was purchased at the Ephemera Society Fair in London in December, 2015.
A fine example of a genealogical gold mine is the accompanying images of the four pages of a List of Officers Present at the Inaugural Dinner of the Bengal Cavalry Dinner Club Friday, 25th May, 1894. This was obviously a prestigious event because even the Prince of Wales - the future Edward VII - was in attendance. Did it take place in London, where there is a Metropole Hotel? Or was it in Calcutta (present-day Kolkata) where there is also a hotel by that name? Since the latter was the headquarters of the British Raj in India, we can assume that the dinner was in Calcutta.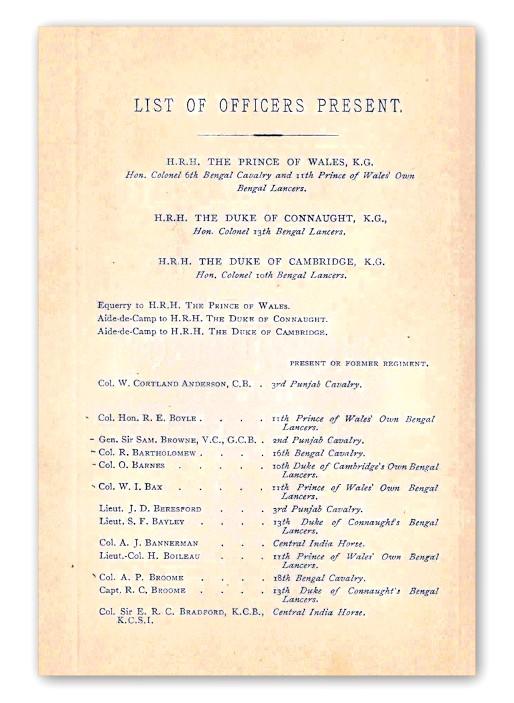 A specialist in history of the era of the Raj in India confirmed to me that it was most likely in Calcutta, during one of the periodic visits that the then Prince of Wales made to India. As Honorary Colonel of both the 6th Bengal Cavalry and the 11th Prince of Wales Own Bengal Lancers, it would have been highly appropriate for him to preside over the inauguration of this Officers Dinner.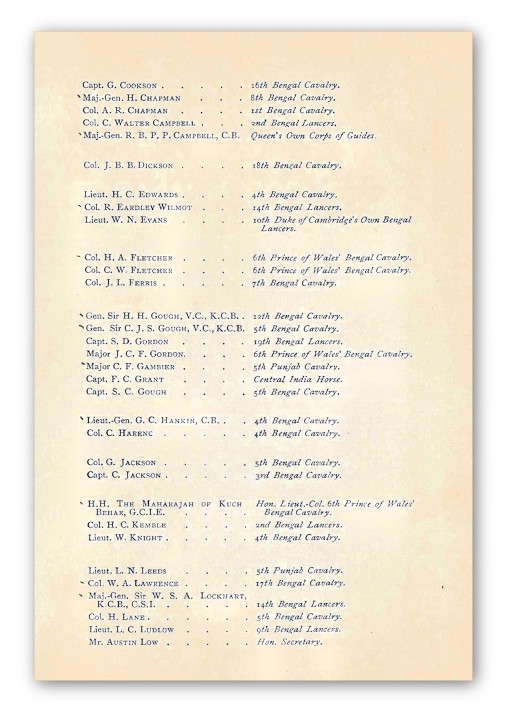 For those present, it would have been a memorable evening of socializing with fellow officers, while hoping to ingratiate themselves with the Prince of Wales, or at least with the other members of the Royal Family, the Duke of Connaught and the Duke of Cambridge. Cynics might suggest that the Prince of Wales would have been more interested in young ladies in his entourage than in the officers assembled!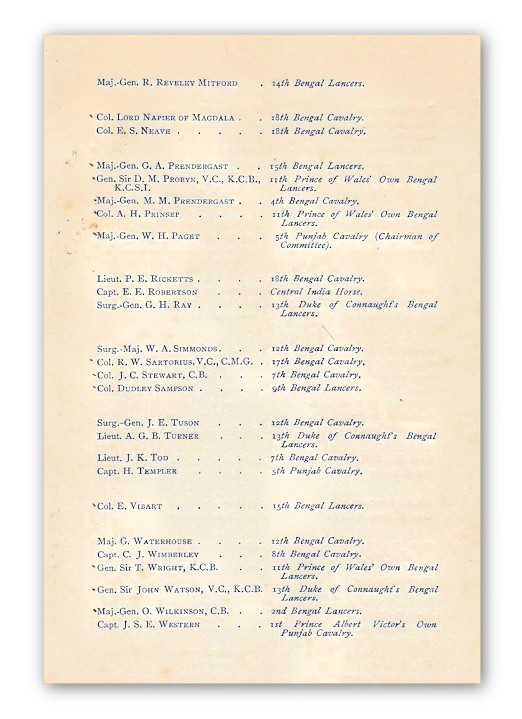 In case the link to genealogy isn't obvious, look at the spectrum of names that were present at this point in time. A researcher looking for his or her great-grandfather or great-uncle who served in India certainly has a large dollop of names to examine. They are in alphabetic order rather than by rank, so a quick look will determine whether there is a link. However, you would have to have this in your hand. You wouldn't be able to use the genealogist's favourite tool, the computer, until someone - generally an institution - computerized the names to create a searchable list.
So it's up to institutions and societies to use ephemera such as this to add to the existing research resources for genealogists who cannot get to fairs in cities distant from them. But first collectors such as you (I assume) and I have to delve into the stock of ephemera dealers and find these gems. Happy hunting!
Copyright © John Sayers 2016. All Rights Reserved.