Gamekeeper's Certificate
Game Duty Certificate C. for the Year 1824
134 x 191mm (5¼ x 7½in)
Printed sheet with manuscript additions issued to Thomas Croome, residing in the parish of Bulford. Receipt for three pounds thirteen shillings and sixpence (£3.13s.6d) with signature in ink by William Dyke Whitmarsh, Clerk to the Commissioners in Amesbury, Wiltshire.
The certificate authorised a gamekeeper to kill or take game anywhere, subject to the Law of Trespass. The gamekeeper was a prominent figure in English rural life. The ancient meadows, leafy woods, and fresh water-streams complete with all the animal life therein were under his protection.
Among his many duties he was responsible for protecting the large estates - in every season and all weathers - from the activities of thieves, poachers and trespassers.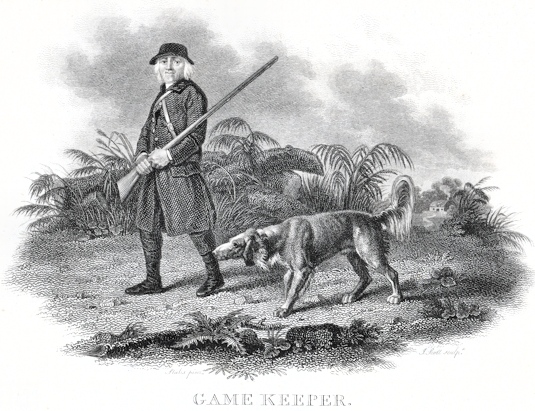 Print by John Scott after George Stubbs
Published May 1, 1802, by Bunney & Gold, 103, Shoe Lane, London