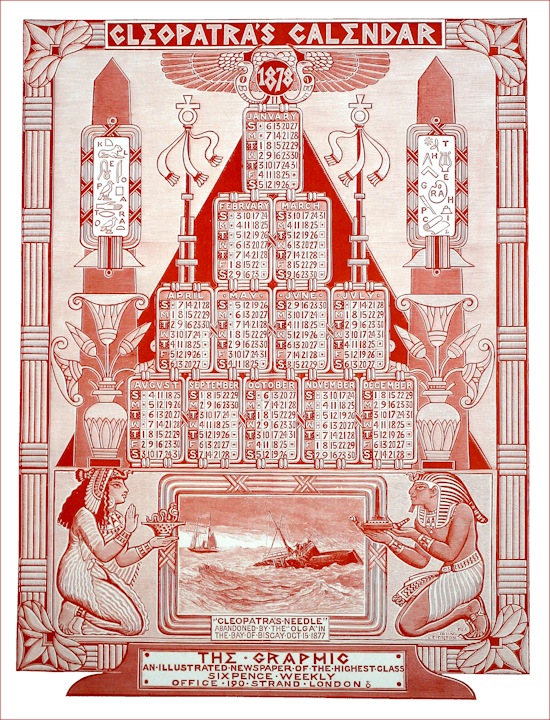 Cleopatra's Needle
Cleopatra's Calendar 1878
229 x 305mm (9 x 12in)
Supplement to The Graphic December 1877
Illustration by John Leighton FSA
Cleopatra's Needle, an Egyptian obelisk almost 3,500 years old, is located on the Victoria Embankment in central London. The monument is inscribed with Egyptian hieroglyphs and was gifted to Britain in 1801 by the ruler of Egypt to commemorate British victories against the French at the Battle of the Nile and the Battle of Alexandria.
It wasn't until 1877 that Cleopatra's Needle was transported by sea, in a specially constructed iron cylinder vessel, to London from Alexandria at considerable expense, reported as in excess of £15,000, much more than one million pounds in today's money.
However, it wasn't plain sailing - suddenly disaster struck in the Bay of Biscay when the "Olga", the steam-ship towing the iron cylinder, was forced to cut her loose in stormy seas. A few days later the vessel with its precious cargo still inside was located floating off the coast of Spain. Another ship was sent to bring her back and in January 1878 they both sailed triumphantly up the Thames to be greeted and cheered by the waiting crowds.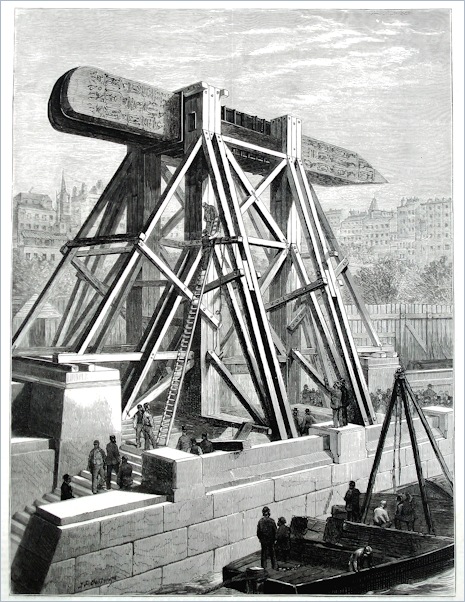 The Graphic 1878: The machinery for placing the obelisk in position on the Thames embankment
The work in connection with the transport of the Egyptian obelisk to England having at last been overcome the concluding and most difficult part of the undertaking, that of raising and placing the obelisk on its pedestal could begin.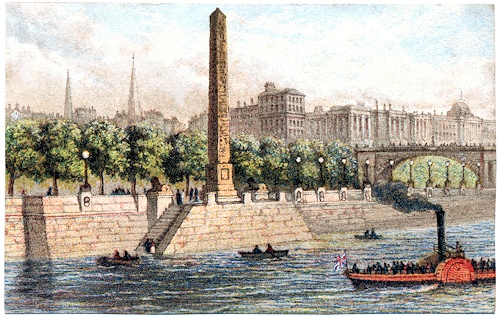 By the Adelphi steps rises Cleopatra's Needle as seen from the River Thames
The onerous task was completed in September 1878 with people gathering from far and wide to witness its final resting place.
The occasion was recorded and celebrated on this charming New Year greetings card.